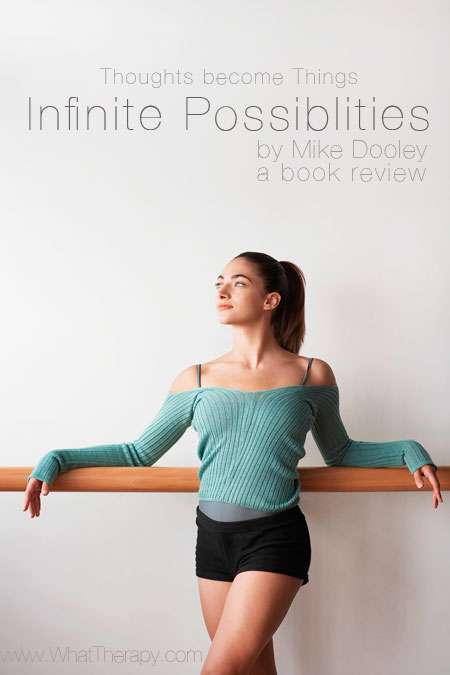 Infinite Possibilities: The Art of Living Your Dreams by Mike Dooley remains one of my favourites. It is an easy read but powerful. The writing flows, moving naturally and with ease from one topic to the next.
Like many good books, Mike Dooley's own journey is weaved into the pages. Personable and approachable.
His stories add a nice personal touch that makes him human, and not a guru. What he writes about is not some lofty spiritual concepts, attainable by endless meditation and clearing of karmic debts.
The basis of the book is "thoughts become things" or that the life of our dreams is completely possible and that there is no competition for it. And definitely no rationing of what we are allowed. Not a new idea, by any means.
First published in 2009, Infinite Possibilities is as relevant then as it is now. The story of a tax accountant on his spiritual journey is important in a time when more people are seeking a different or a better (read: more aligned) way to live. This book offers practical guidance, like reverse engineering your future by believing and living your life as if you are already living the life of your dreams. This long-winded statement is actually simpler than it sounds, and definitely not woo-woo, esoteric, or pie in the sky.
Chapter ten is the go-to chapter for actual techniques and tips, including advice for "when life "isn't" working". For those who think life isn't fair, check out his perspective.
Actually, life isn't "fair" when you consider that we are each inherently born to thrive and that ultimate failure is impossible. Truly, the cards are stacked in our favour!
MIKE DOOLEY
Chapter 11 is the Q&A section. Mike Dooley answers common questions like "I don't know what I should be doing with my life!", "How do I deal with all the uncertainties in my life?", and "How can I better cope with the pain of disappointment?" You see, Mike's been there. He's had quite a journey himself.
As a featured teacher in The Secret and the author of Notes from the Universe, Mike Dooley is well-versed with living his dream. Peppered throughout the books are some pretty inspirational thoughts. [Notes from the Universe is a free app! Get it for your daily inspiration]
"Since the material world is simply a reflection of an inner world, it's the inner world that needs adjusting, tweaking, and plucking when the outer world fails to please us"  but "The starting point in not that you don't have any and you just want a little; it's that you have everything and you just want a little".
Who is This Book For?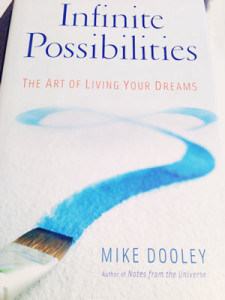 Anyone who needs a little bit of inspiration to change their beliefs to live the life of their dreams.
It's about choosing it.
Some of you reading this may think, "well, I don't choose this painful experience or this difficult life"…On some level, we have all chosen the life we are living this moment. Perhaps it was something we needed when we made the choice to experience it. Perhaps it is no longer necessary, or aligned with the truth of who we are.
On some level, we have all chosen the life we are living this moment. Re-reading Infinite Possibilities by Mike Dooley @WhatTherapyHub
click to tweet this

So yes, we chose it. The good news is – we can always choose something else. It's about taking responsibility. By taking responsibility, we take back power.
The practical tips and exercises in Infinite Possibilities will help those who need a more structured "plan" than just going on "thoughts become things".
Some people have found the book repetitive. I find that there are many layers and the reader gets what he/she needs with each reading.
Depending on your belief system, some of the ideas and concepts may seem far fetched. It's time to get out of your comfort zone. All growth comes from stretching a little.
Do remember that intention is everything. It's about the mindset. For example, Mike Dooley isn't telling people in financial duress to go out and shop like maniacs. It's about not living in the spirit of poverty and scarcity. It's a subtlety that seemed to have been lost on many people.
In this day and age, where most people are bombarded by info overload, the irony is not better choices. Studies show that, given too many choices, people end up not choosing at all. Given too much information, people get frustrated and more likely to shut down. If we remain in the same environment, it's a bit tougher to change our thoughts. It's easier and more comfortable to sink back into a routine. At least until we are at the edge of a precipice.
I don't believe we need to be at the end of the rope to be ready for change.
We don't need to see a close friend or relative suffer from dis-ease before we decide to adjust our own lifestyle. We make decisions all the time. We make choices that lead us into the future.
To me, the question is how to bridge the gap between being unwell/unhappy and making different choices. And the gap between reading inspiring quotes by famous people on FB and acting on your own inspiration?
What do you do in the actual moment of pain and confusion?
If it's the mind that gets us here (and a little trapped), maybe we can look at the mind to get us out. Changing the way we see things, the way we think about things, can be the start of something beautiful. Sure, the heart is where there is no duality and sure the heart is stronger many folds over both electrically and magnetically but most people live in the mind and not the heart (and that's another topic). If we dwell within the mind, let's change our environment.
Start small. Try out Mike Dooley's suggestions and be open to change.