In recent years, a movement in organic food and product has been surging in the mainstream culture. An impressive number of natural, organic, and non-toxic skincare companies has cropped up, giving consumers an array of beautiful choices.
The idea of organic products, however, is not new and you may be surprised to find that award-winning Black Paint was created 15 years ago in Kyoto, Japan.
Black Paint was the result of the founder Miyuki Maeda's personal journey. Her daughter was diagnosed with a kidney disease and she began her research and studies in physiology, bacteriology, and traditional healing systems to help (and actually cure) her daughter.
Halal-certified, Black Paint is an antibacterial natural soap made using a cold-pressed method with 23 organic plant oils and Kishu Bichotan Charcoal, and is free of alcohol, paraffin, fragrance, and synthetic preservatives. The rate of absorption into the bloodstream from the skin is very high so using non-toxic skincare and personal products is an easy way to boost your health.
In a world of fast-convenience and multi-purpose products, the cleansing protocol of Black Paint is a much-needed ritual of self-care. Looking to be more mindful in your life?  Make your morning and evening cleansing routines all about you. Close the door (maybe lock it!) and take some time for yourself. Slow down and enjoy a super-sensory experience.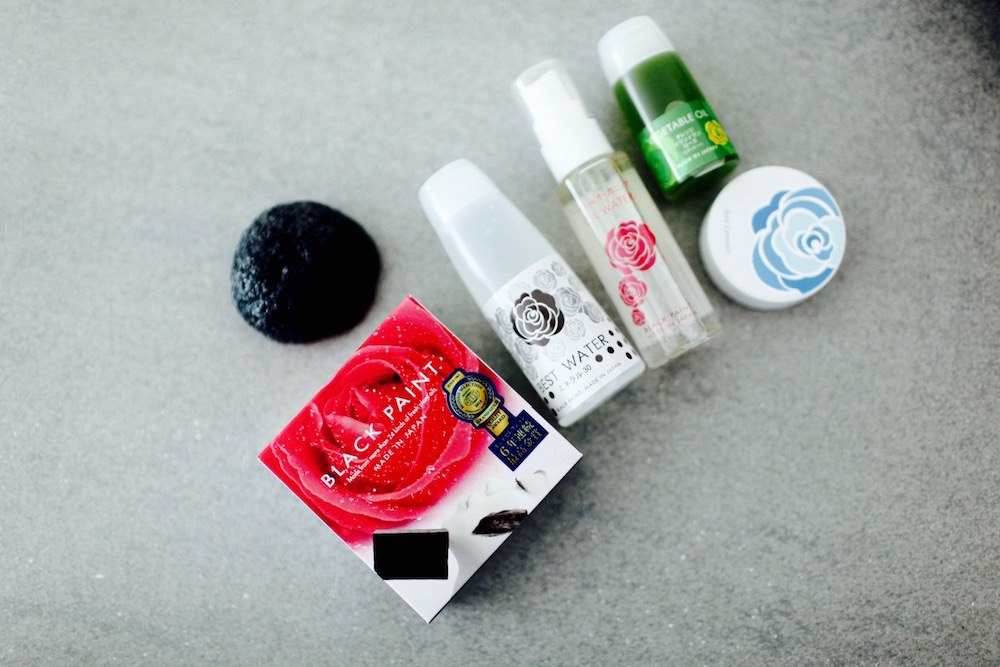 Rachel Lee of Black Paint invited me to their office and showroom for a demo and to pick up the products for this review. The pack included the Vegetable Oil, Black Paint soap, Konjac sponge, Best Water toner, Rose Oil Water lotion, and the Water Cream moisturiser. To be honest, I was a little surprised as I thought it was just the Black Paint soap. Each step turns out to take only a few minutes so the entire process does not take long at all.
My cleansing routine for the next month while I tested the Black Paint products were the following steps.
① Vegetable Oil
The Vegetable Oil is made of 10 oils including rose oil and sweet almond oil. I love rose oil. They say it is good for mature skin because it is nourishing but it is a beautiful oil for every age. Maybe just adjust for the amount used. This vegetable oil removes my makeup –  mascara and concealer. It is gentle and my skin feels plumped up and not oily.
② Black Paint soap
To prep the soap, I pop it into a cup of warm water for about a minute or less. Made mostly of coconut oil, this soap softens quickly. I rub the bar on my face, using all sides and for some parts like around the eyes and the nose, I use my fingers to apply it instead, especially when the bar of soap is still new. I massage the soap into my face. When I have more time, I do it for longer. This soap is another makeup remover and is great for pores! Really.
③ Black Konjac Facial Sponge
To remove the soap, I use the Konjac sponge which I start to rehydrate when I soap up my face.  Because I am using the black soap, I find it less messy to clean the soap off in the shower.
It is very important to completely dry the sponge after use, especially given the humidity in Singapore. I squeeze out the water as much as I can with my hand and then I fold it inside a towel to absorb the moisture. In between use, I leave it where there is good air circulation to air dry.
This facial sponge is 100% natural and according to the Black Paint website it "pulls blockages from pores, while the Kishu Binchotan charcoal absorbs dirt and excess oil."
④ Best Water Toner
The Best Water Toner uses minerals to minimize pores. This is super hydrating. I put a few drops on the rough side of their facial paper, which I apply to my face. When I have more time, I put a few facial paper with the Best Water Toner on my entire face as a hydrating mask.
⑤ Skin Regenerating Lotion
This is the Rose Oil Water, the tightening part of the regime. Be sure to shake the bottle well so the components are blended. Just a few pumps' worth.
This product is very interesting. Beads of water form on the skin. This moisturizer, with argan oil and other organic oils, is super hydrating but light. It is absorbed quickly by the skin which leaves it nicely prepped for any makeup application.
---
I have tried many, many natural, organic, and non-toxic skincare products. I have heard many companies boast of benefits like minimizing pores so when I read in the brochure that this is one of the major appeals of the Black Paint, I was not so sure. I have been sold to before, and I was disappointed.
To test this, I abstained from facials for the month. Without spa facials and at-home masks, I did notice that over the trial  period the pores on my nose did appear smaller.
Despite my initial worries about the multiple steps, I enjoyed using Black Paint. At first, it was more about organization – remembering to hydrate the Konjac sponge and soap ahead of time, finding a way to get them both dry, and patiently sponging the soap off my face….Getting the sponge to dry completely in between use was not always possible so I washed off the soap in the shower.
I would recommend Black Paint.
I was thinking back to my first facial soap. It was the famous Clinique soap, toner, moisturizer pack my mom bought me, a Mother-daughter ritual of my time. If you are looking for something for your daughter, consider this non-toxic skincare option, and for yourself as well.
If you want to give it a try, the Black Paint soap does come in two sizes, available at their retail outlets – Metro Woodlands and OG People's Park.
The company also makes other natural and non-toxic skincare items including a variety of soaps – White Paint, Chamomile, Otto 8, and the tea range. To find which one is most suitable for you, the counter sales ladies can help you out. They also have an online shop and free delivery for Singapore.