Travelling any time of the year can be full of anxiety. More than in routine daily life, it's essential to take care of all your practical needs so you feel happy and secure. A healthy Self-Preservation Type, according to the Enneagram, is a devotee of self-sufficiency and self-improvement.
Here's advice from our Self-Preservation friends for what to do before, during, and after your flight on your travels.
What to Do Before You Travel
Hydrate, hydrate, hydrate (lots of filtered water and electrolytes; try coconut water).
Prepare snacks for the flight. Skipping airplane food is best; otherwise pre-order a non-dairy plant-based meal. This is easier for the body to digest and process especially under stress.
Confirm an aisle seat to make getting out of the seat easier. Regular movement helps circulation. Even doing seated stretches and standing up are good for circulation if you prefer the window seat.
Pack a tennis ball, to roll out your back and feet while on the plane.
If you are prone to constipation, opt for low carbs now.
Get rested. Don't overtire yourself which lowers your immune system.
Prep your music playlist. Have a selection of relaxing songs for sleeping and when you are getting through an overcrowded airport and delayed flights.
Stock up on the items from your to-pack list
Bach Rescue Remedy or Five-Flower Formula for stress. You can put a drop or two in your glass of water to drink or directly under the tongue.
Snacks. Check out the Medical Medium's 16 Snacks for Adrenal Fatigue. The old advice of an apple a day (or 3) really is spot on! We also love white mulberry snacks.
A shawl, to keep the head and neck warm and doubles as a blanket.
Mask. You can put a drop of essential oil on the inside; be sure it is not a "hot" oil which can be painful on and around the lips. Try lavender or rosemary. This is a great way not to get sick.
A hydrating cream for the face for the dry airplane air.
Immune boosters (Vitamin C, Elderberry Syrup, Zinc, etc). Sitting in re-circulated air means you are potentially exposed to sick people. Stress compromises our immune system.
Tissue Salts (Ferrous Phosphorus when you start feeling off)
Magnesium, for relaxation to sleep better on the plane
Glass water bottle
Portable utensils
In the Check-In
What goes here depends on the destination and how long the trip is for. For longer travel plans, consider shipping a box of your favourites from iHerb or a reliable local delivery service. Research ahead of time for health food shops to replenish your supplies and options for grocery stores and restaurants, especially if you have specific dietary needs. Just because we are travelling doesn't mean we shouldn't have all the comforts of home.
Epsom Salts, for detoxing and relaxing baths or just to soak tired feet
Arnica for sore muscles
Charcoal (powder or tablet) in case of dodgy food
B12, to help your liver to detox. We like Global Healing Centre's VeganSafe B-12, with methylcobalamin and adenosylcobalamin. Other good stuff for liver – dandelion tea, burdock tea.
Melatonin for jet lag
Empty spray bottle to make a room spray with essential oils
We are loving the BioGeometry Signatures Mandalas Colouring Book. These mandalas are not only meditative to colour but represent the energetic patterns of the body's organs. By focusing on them while colouring, a person releases stress and harmonizes the body.
Thanks to Doreya Karim, we are sharing one of the newest BioGeometry mandalas for you to colour on the flight. It's to harmonize electro-stress. This is a great one for when you're travelling.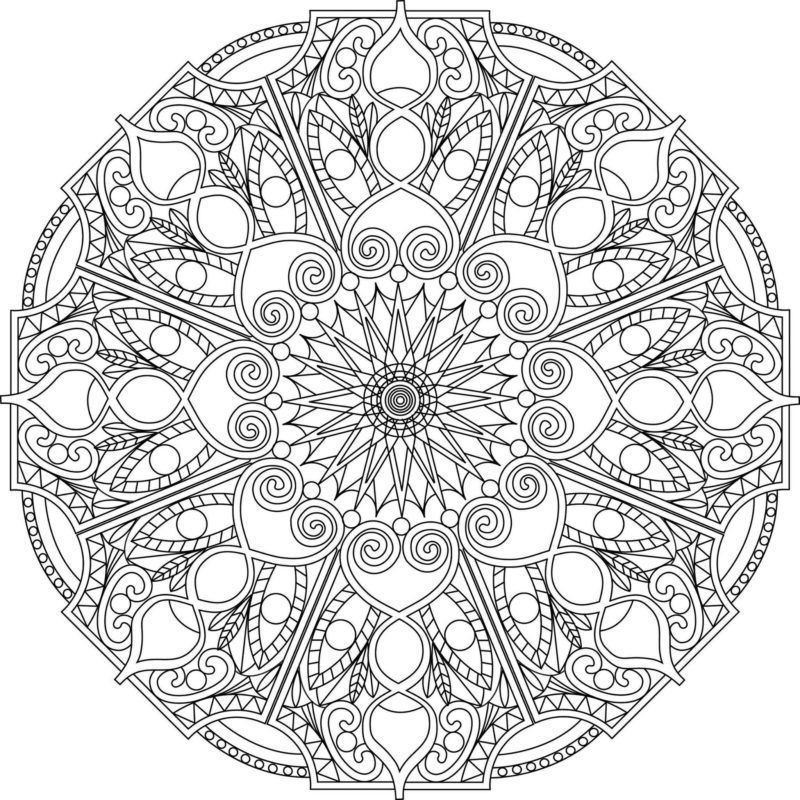 Hydrate, hydrate, hydrate. Because dehydration registers as stress in the body, which further dehydrates the body.
Take your magnesium before takeoff. It promotes relaxation.
Stretch and move.
Hold your fingers (a Jin Shin Jyutsu self help technique to minimize jet lag; hold each and all the fingers of both hands as much as you can on the flight)
Apply your cream as the air on planes is very drying.
Meditate.
Do breathing exercises.
Sleep.
Colour the BioGeometry Signatures mandalas.
What to Do After You Land
Hydrate, hydrate, hydrate.
Get outside and walk around in daylight to reset your circadian rhythms.  If possible, arrange your arrival time during the day in the new time zone to sync up with the local day/night cycle.
Take it easy so not to compromise your immune system. Take deep breaths.
Turn in early and black out your room to help reset your clock. Light interferes with melatonin. Some people find it helpful to take a low dose to help sleep.
Take magnesium and Epsom Salt baths for relaxation.
Detox radiation by boosting your consumption of chlorella, spirulina, kelp, parsley, and coriander, broccoli, zinc, turmeric, etc. Wild foods, especially wild blueberries, are fantastic for pulling out the radiation (that's not only from flying and x-rays). Toss some dandelion greens onto your salad or make some dandelion tea.
Put a drop or two of essential oil like Thieves on a cotton ball and put it in an air vent to clean the air.
Bring a Biogeometry cube to energize your hotel room.
Downward Dog, Child's Pose, and Legs Up the Wall are great stress-busters.
If you do happen to get stuck at the airport, make the most of it. Remember that guy who filmed himself lip syncing to Celine Dion's All By Myself? Watch it here.
So many airports now have great facilities for everyone travelling. Yoga rooms. Napping rooms. Sleep pods. Napcabs. Snooze Cubes. Showers. Gardens. Spa. Cultural activities. Ice skating. 24-hour food. Get a massage whenever you can on layovers.
The top 15 airports are in Singapore, Incheon, Munich, Tokyo, Hong Kong, Centrair Airport, Zurich, London, Kansai, Doha, Narita, Frankfurt, Amsterdam Schiphol, Vancouver, and Helsinki.1
Other stress-busting suggestions – Jin Shin Jyutsu (hold all your fingers), TRE, asanas, meditation, stress balls, hydrate, HeartMath, knitting, and check out these articles on stress.
Enjoy your holidays!