When the weather changes in the fall, take care of your health naturally. It can be as simple as bringing a light jacket or a shawl when the cold wind suddenly blows in. Or heading to bed earlier, as you note your energy level changing with the season.
As a Jin Shin Jyutsu practitioner, I have at my disposal this art to release energy blockages. I find myself now holding my thumb or this finger or that finger. These are examples are what we call Self-Help. I also turn to homeopathic remedies, tissue salts, herbs, quantum technology, and bioresonance to support my immune system and stress (which affects our overall well-being and resilience).
The body is amazing and complex technology, and so much of the time, it's about removing burdeners and providing deficient nutrients. Using plant-, energy-, and vibrational-medicine helps to support the body's many processes. By allowing it to be flexible in response, we can navigate changing climates, circumstances, and life stages.
Earthley for Natural Health
As a customer and affiliate of Earthley, I've tried a number of their products. I respond to their ethos of offering a wide range of tinctures, lotions, and capsules made with organic ingredients and whole foods. So this means no synthetic, flavouring, any GMO, etc. Supporting people being healthy naturally is a big part of Earthley.
I like many of their products, including Gut Health Oil, Liver Love (the new one is Black Liver Love which has Black Seed oil and targets different purposes), Nourish Me, Vitamin C capsules, (the Vitamin C powder has stevia leaf), and a few hormonal balancing tinctures for women. I also like their Electrolytes, lymphatic cream, Good Night Cream (for magnesium), and Lunamore.
For the colder and changing temperatures, here are some of Earthley's most beloved items formulated by their team headed by the owner who's an herbalist. You can read more of their testimonials, which number hundreds. If you have any specific questions, let me know. As affiliates, we are very supported with their team with knowledge of the products and of the ingredients used. Being healthy naturally and sharing natural wellness information is important to What Therapy.
* Sharing these products does not constitute as medical advice.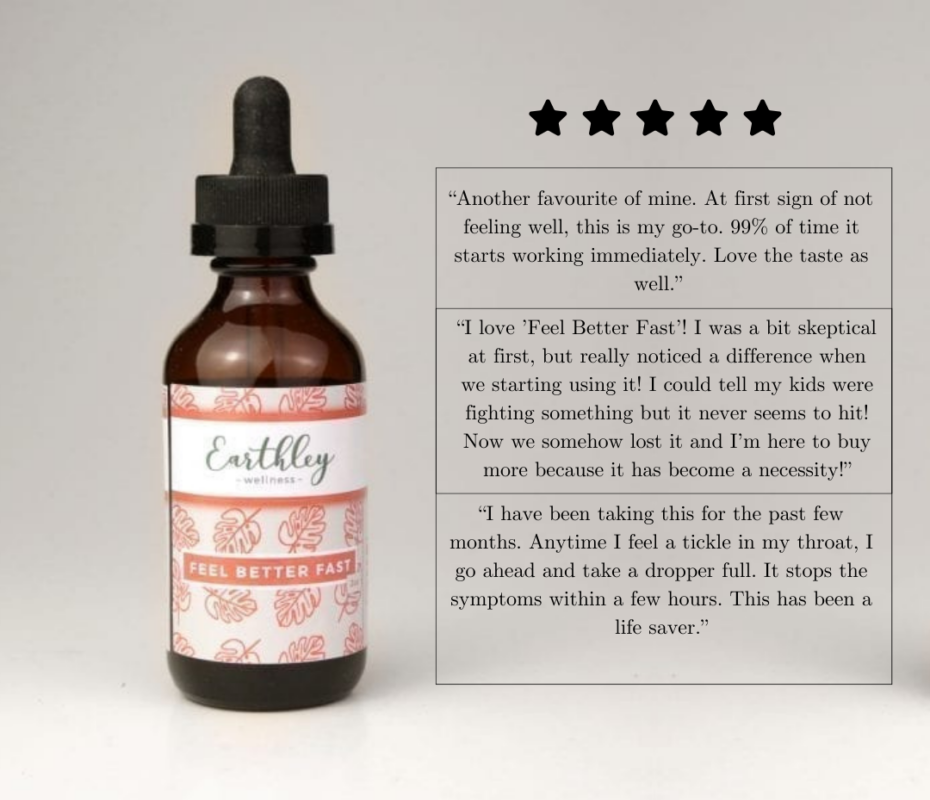 Feeling under the weather? Feel Better Fast is Earthley's organic offering to support your immune system naturally, whether a cold is coming on or you have an upset tummy.
Be notified for Earthley sales – subscribe to What Therapy.
Earthley's Cough-B-Gone Herbal Tincture is made with organic herbs to relieve congestion and coughs and so it doesn't suppress symptoms. It comes in original (preserved with cane-derived alcohol) and kid-friendly version with vegetable glycerin. Earthley chose mullein to support respiratory health, fenugreek to help clear mucus from the body, and dandelion root to support liver health. This herbal tincture does not contain synthetic ingredients, added sugars, colouring and flavours, or allergens such as corn, dairy, gluten, eggs, and soy. Earthley also uses a third-party lab to test that there are no heavy metals.
Enjoy 20% off from November 7 to December 4, 2023 with code "BYECOUGH"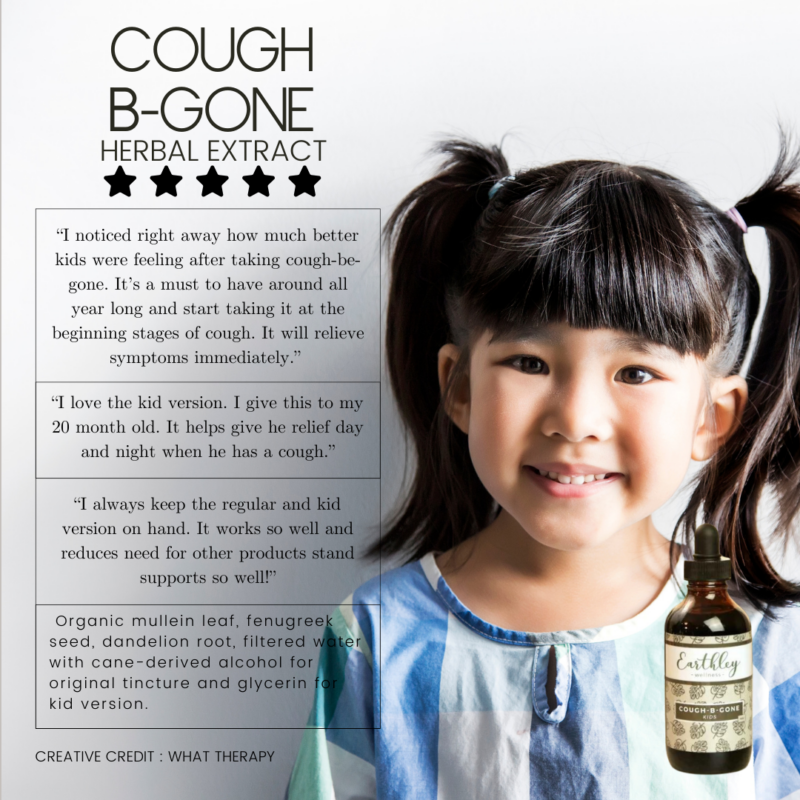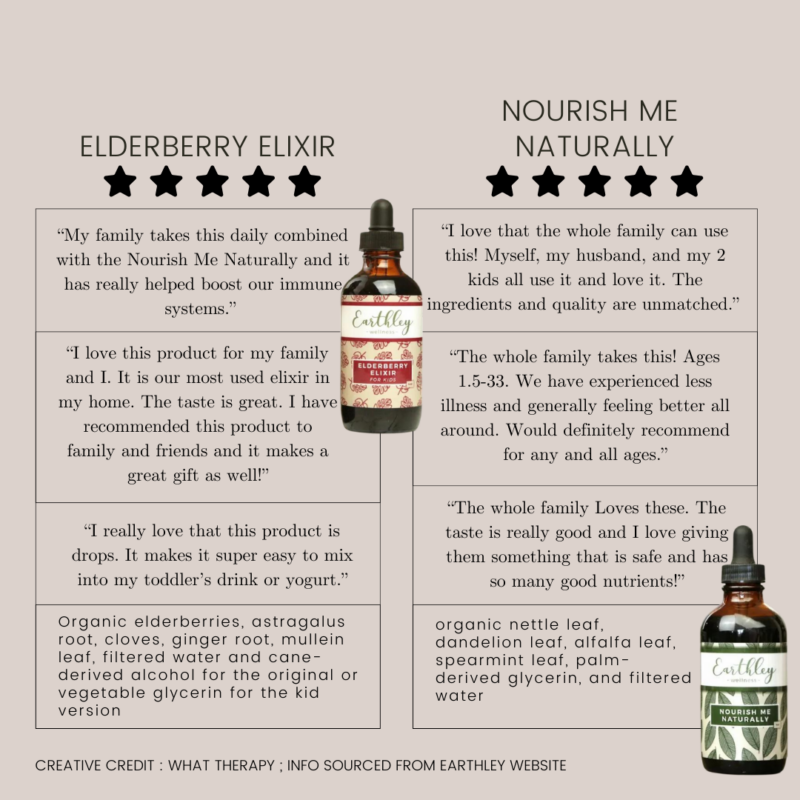 Pair the Elderberry Elixir with Nourish Me Naturally to support your immune system. Earthley formulated both using organic ingredients and have kid-friendly versions, simplifying what to have on hand for the whole family.
Nourish Me Naturally offers bioavailable minerals and vitamins from whole plants. None of the Earthley products contain synthetics.
If you like making your own tinctures or want to show your kids how, Earthley also offers a DIY kit for the Elderberry syrup.
Here are some Earthley's digital Guides of interest, many of which are free and cover a multitude of well-being topics. Relating to supporting the immune system, here are a few: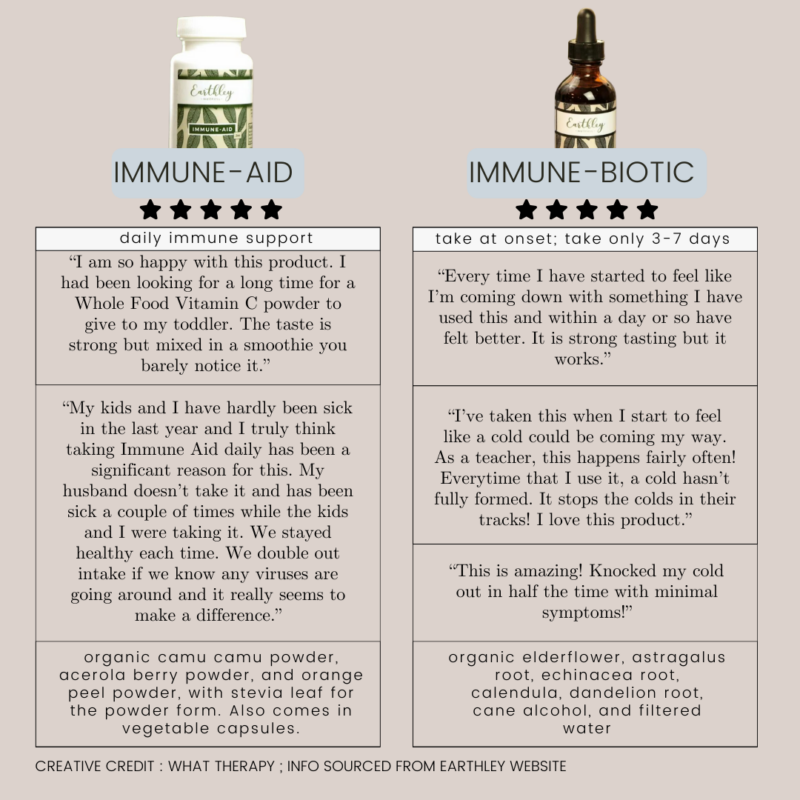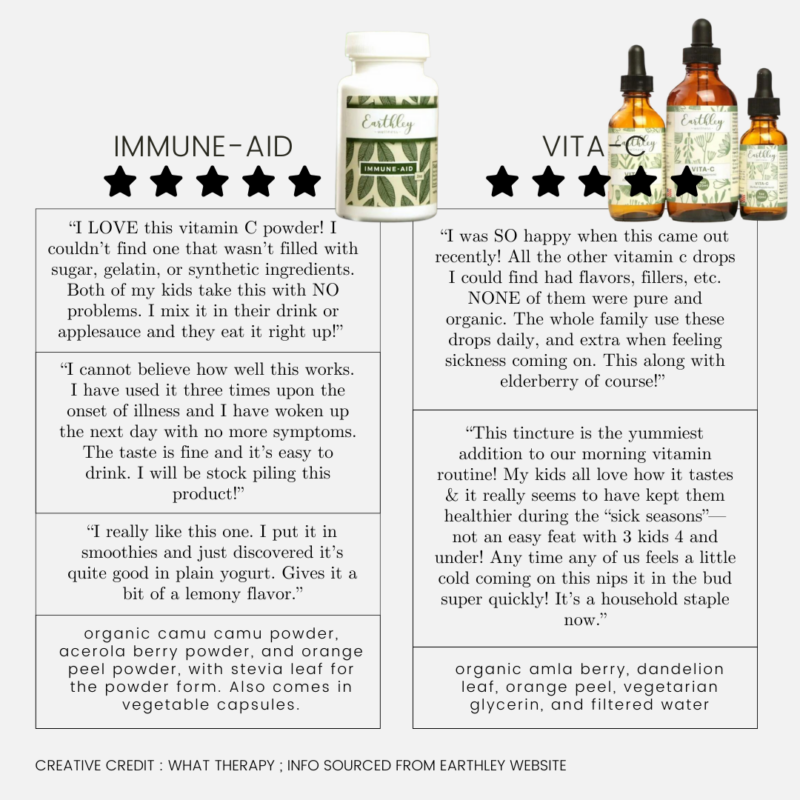 Earthley offers a range of immune support. A common question is which one? You can take Immune-Aid, which is whole food Vitamin C regularly to enhance health while Immune-biotic is for the onset and taken for a week at a time. If you don't like Stevia, opt for the Immune-Aid capsules, which is what I take. If you like liquids, take a look at the Nourish Naturally range. (Use "ChooseNatural" for 10% off your first purchase. Subscribe to What Therapy to be notified of Earthley sales. What Therapy is an affiliate and so we earn a commission should you purchase via our referral links.)