I'm sitting, waiting to provide my identity documents.
At a police station in Munich, Germany.
I was caught driving without my driving license. Not a crime in Germany. You are just required to drop by the police station to show your papers afterwards.
A tall cop with a straight face and distinctive features comes in.
His looks give me every reason to show my nicest smile. He has very cold eyes, jutting cheekbones and protruding ears, a fleeing forehead and a distinctive chin.
I greet him in a friendly manner and apologize immediately for my absent-minded behaviour. He gripes at me and I answer in a honeyed voice. His aggressive potential was almost palpable. For sure I will give him no reason to impose any fine on me.
For this guy only law and order counts. I don't expect any mercy. If I had really committed an offense, there would have been no way to escape scot-free.
Again I reaffirm how sorry I am for driving without papers. He starts to inform me about my duties and responsibilities as a driver.
My inner self slowly starts to build resistance to this guy. I also have strong cheekbones and like everyone with this feature, I hate to be told what to do. But I remain delightful, cursing him only in my head, and finally I get dismissed.
He would have just loved to impose some punishment on me. If I would have become the tiniest bit unfriendly, he would have had booked me for insulting an officer. Because of my face reading skills, I got off lightly.
What exactly can you see when looking at a faces?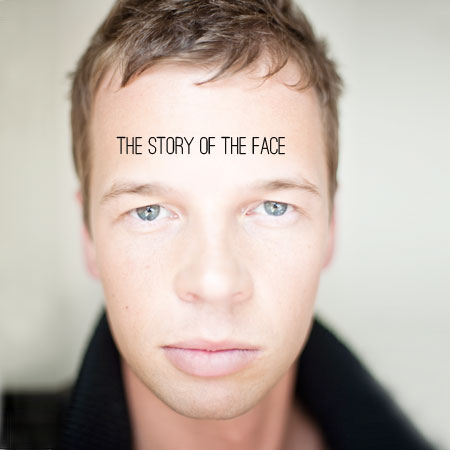 Our chin, for example, reveals our energy and drive for action. The bigger and more distinctive it is, the stronger the impulse to take action. For people with a receding chin, it will be harder to get things going.
Whether we are the type to persevere, it can be seen in the arch of the jaw. If it is strong and prominent, these people have the strong stamina to hold onto things.
Our nose provides information about our willpower. Big noses always dominate small noses. So if a person has a big nose and a receding chin, they want a lot but find it more difficult to take action.
Our forehead shows the way we think. At the hairline, where the forehead ends, is the area for social compassion, human kindness, and sympathy. These attributes are not very strong in a person with a fleeing or sloping forehead. Mao. Stalin. Hitler.
How do we live and show our feelings? Let the mouth tell the story. Small lips will never offer an exuberant declaration of love. They prefer to express their feelings with action.
The ears indicate our inner needs. Out-sticking ears are a sign for inner resistance, opposition, and aggression. If only the upper part of the ears is sticking out, this person loves discussions and tends to argue the converse.
The skull shows our drives and impulses in life.
While each part of the face reveals different clues, the challenge (and the fun) of good face reading is to combine them all into an overall picture. Just one characteristic is not sufficient and can be misleading.
If someone, for example, has a big nose and very small ears, one can assume that this person will overextend himself. His strong will pushes him but his small ears speak of the need for more rest and recreation. In the end, the ears win and this person will be slowed down by physical exhaustion.
We are all face reading the whole day. We know that sagging corners of the mouth express a negative life attitude. A red, large-pored bulbous nose is mostly an indication of an alcoholic or that small lips are not a sign of indulgence and hedonism. If we are in love, our whole body seems to glow and shine and our eyes twinkle happily.
Our life experiences have taught us to interpret facial features in a certain way and with our intuition, we are mostly right. Physiognomy teaches us to translate these unconscious into conscious impressions.
The German scientist Carl Huter has taught this knowledge and called it Psycho-Physiognomy. Physiognomy is the science of reading faces. This science is divided into the aspects of Psycho-Patho-Physiognomy and Patho-Physiognomy.
Patho-Physiognomy is about detecting signs of disease in the face. Wrinkles, tissue consistency, swellings, and discolouration show weak organs, forthcoming diseases or toxic loads on the body.
With the help of Psycho-Physiognomy, psychological qualities can be indicated by screening the body, specifically the face but also in the physique and gestures of a person.
At the beginning one starts with interpreting body shapes, ears, and noses. After a while, these characteristics can be connected. It must also be remembered that people and their appearances do change.
If a person was very sensitive in his youth and then decided to get harder and work out a lot, the body and face would become different.
But nobody can be evaluated based on only one particular feature.
An expert face reader must be able to combine all attributes of a person to gain an overall picture. He has to pay attention to the condition and textures of the skin like radiance and tension, as well as eye expressions. This needs time and practice.
Our experiences, feelings, and attitudes are reflected in our bodies.
If we understand the needs of our fellow human beings, we will become more tolerant and even appreciative of others.
We are all different and we cannot expect others to be the same. If I am quick and spontaneous, for example, I may expect the same from the others, assuming it is natural for them. I may get impatient when the response is slow and not forthcoming. I may not understand that the other person is a procrastinator or is just not able to make fast decisions.
With the knowledge of Physiognomy, the dent at the root of the other person's nose will help me understand that he needs time to react and to think things through. Unlike me, he becomes overstrained when feeling pressured to be spontaneous and quick.
Having this awareness allows a person a clearer understanding of other people's needs. I can better and more easily respond to others and have a better relationship.
Tip : If you have a customer with a dent on top of the nose, instead of pushing him to a decision, give him the information, make an offer, and send him home. If he agrees with your proposal, he will get back to you.
Generally there are no distinctions between men or women for face reading. Also there's no judgement. Characteristics are neither good nor bad.
Using Psycho-Physiognomy aka Face Reading in everyday life
① Choosing the Right Person For the Right Job
My hairdresser has a fine sense for beauty, his hands and fingers are dexterous and he is good at composition and construction.
Where can you see that?
Look to the lower back of the head for the senses for handicraft skills. If this part is broad and nicely rounded it is a sign of skillful and nimble fingers and hands. It also shows a strong sense of family and  strong sex drive.
A protuberant area above the brows (like the Neanderthals had) implies good senses of observation and perception and a realistic view of life.
There are also the senses for beauty.
When looking at someone, if you are able to see the outer edges of the forehead, just above the end of the eyebrows, it is a sign of creativity in construction and composition. People with sharp outer corners in the eyes are able to calculate things well.
You can incorporate this knowledge when interviewing job applicants to find the right match.
Ambition can be a good quality but it is not necessary the right fit for the team player you are looking for. People who are ambitious and look for power have a larger space between the upper lips and the bottom of the nose. If more than the width of your index finger can fit in between, ambition is a strong characteristic in this person. Take a look at politicians.
Face reading can reveal strengths and weaknesses. It is a useful skill when building the best dynamic staff at work. By taking into account the abilities, talents, and needs of the staff, each individual employee can more easily be placed, promoted, and motivated according to their specific capabilities and drives.
② Choosing the Right Partner
By better understanding the characteristics important to you and seeing whether they are possessed by the other, choosing the right partner would be a little easier. A more dynamic-sensitive type who needs new stimulation all the time would probably go a bit bat-crazy with a partner who just loves to stay home all the time.
Face reading is fascinating and I got hooked. People ask me if I can still meet people without analyzing them. Naturally I know immediately the type of person standing in front of me. You can't just stop face reading, once you know how and you never look at people the same way again. But it helps me connect and engage with people better now. It is indeed very useful, especially with policemen.
---
Stephanie Helmberger is a practitioner of Physiognomy based in Munich, Germany. She travels regularly to Asia and is available for phone consultations and by submitting a photograph. A one-hour consultation is 60 Euro. Her German-language website is www.gesichterlesen.com. Check out her FB page for tips in English. Stephanie can be reached at mail@stephanie-helmberger.de.