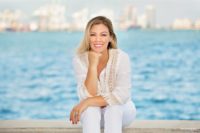 About
Fiorella Velarde, M.S. M.Ed, Florida-based psychologist, educator and trainer, is committed to creating value with emotional intelligence by assisting organizations and individuals to reach their full potential in her role of Senior LAC Consultant with Six Seconds, The Emotional Intelligence Network.
Fiorella is a deeply experienced integral leadership trainer and strategic facilitator; clients have described her as "compassionately insightful." She builds trust quickly, evoking courageous conversations through the art of skillful questions, mindful attention, and a thoughtful curiosity of each team's unique experiences and aspirations. As a seasoned organizational consultant and certified Six Seconds EQPC Certified Practitioner in the United States and Latin America, Fiorella Velarde exhibits a high degree of intercultural understanding that allows her to create momentous integration with the teams she works with.
Her favorite motto? "Emotions Drive People, People Drive Performance."
From corporate directors, complex organizational teams to physicians and academic leaders and parents, she partners with clients' guiding transformational learning through neuroscience best practices, evidence-based methods and a wealth of professional and practical knowledge. Through high engagement facilitation, Fiorella taps the collective intelligence of groups with a strengths-based, solutions-focused approach. Clients benefit from greater alignment, engagement, creativity, innovation and the energy to move from vision to action and reach their performance and resilience goals.
Error: Contact form not found.