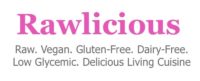 About
Sharon Galistan is the founder of Rawlicious, home to raw, vegan, gluten-free, dairy-free, low-glycemic delicious living cuisine. A graduate of Matthew Kenney Culinary, Sharon is a certified Raw Food Educator and Instructor who holds a license to work in commercial kitchens.
"Food must be nutriious, nourishing, easy to prepare, and delicious!"
Passionate about introducing healthier food choices, Sharon and Rawlicious promote a delicious whole-person approach to food, our best medicine. On offer are raw food classes and events for groups, children, and corporates as well as restaurant consultation, private coaching, and retreats.
Rawlicious is a one-stop shop for essential raw food equipment and tools, which make food preparation both enjoyable and a breeze. The importer and distributor for Sedona Rawfood Dehydrators, Rawlicious is also where you can find the Magimix Food Processor, Vitamix, Cell-Gen Water Filtration System, GreenStar Elite Juicer, Ball Mason Jars, and much more.