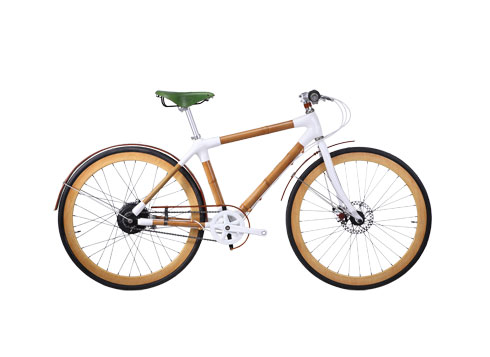 It starts with Why and the why of Bamboobee started on the Silk Road.
Sunny's second Central Asia adventure, the Circle of Life expedition saw him traversing through some of the most inhospitable terrain.
The route included Kazakhstan, Kyrgyzstan, Uzbekistan, Tajikistan, China, Thailand, Malaysia, and Singapore.
Over 6000 km of grassland, dessert, and tough mountainous landscape.
Unlike his first trip, completed on a second-hand motorbike, Sunny went back to the basics and rediscovered the simple joy of adventure on a bamboo bike. 9 months of self-discovery. In the process of learning more about the world, Sunny learned about himself. Just like any hero story.
Our most valuable treasure is around our corner. But, we need journeys to gain the awareness to make the insignificant things significant.

In other words, keep finding opportunities to walk the untamed paths. This is where it will provide the opportunity for us to relearn what we have learnt, and unlearning it altogether. This will promote us to gain wisdom and be wiser in our own live.

Sunny, creator of Bamboobee
Inspired by the connectivity with the rawness of the land and the bright smiles of the people. And from that first self-made bamboo bike was born the dream of Bamboobee.
For almost two years after Sunny returned to Singapore, he and his friend/business partner refined the design and engineering to produce what they feel is a lifestyle bamboo bike ready for the market. The first bike along with several prototypes are stored at the design studio that is his home.
I first stumbled onto Bamboobee's bamboo bikes when I saw a few prototypes displayed at Millenia Walk in 2012. From that moment, I knew Bamboobee was something special.
The idea of a bamboo bike is by no means novel. First invented over 100 years ago, an early American model from 1896 sits in Prague's Technical Museum. Bamboo is light and durable and was apparently used by more than one designer. An ad by the English company The Bamboo Company shows their 1894 model.
I recently caught up with Sunny to find out more about his Kickstarter project to fund the production of the bamboo bike. For those not familiar, Kickstarter is a crowdfunding platform that has helped fund over 39,000 projects with some $570 million by people like you and me. 3.8 million people apparently pledged amounts as low as $1. Crowdfunding leverages on small contributions from many people, from many places. One person really can make a difference.
On March 28, 2013, Sunny, an "ordinary adventurer, engineer, bicycle craftsman, and entrepreneur" launched the Kickstarter project for the Bamboobee bicycle. His initial goal of $40,000USD was reached in just a few days. This is the minimum that must be pledged before a project is funded and the funds can be released. The tiers of pledges start at $1.  With $350USD and up, a contributor can receive a customized bamboo frame. With $600USD, a complete bamboo bike.
Bamboo is lightweight, environmentally friendly as it is both biodegradable and sustainable (fast growing and no soil erosion), naturally dampening, and stiffer than carbon. As can be seen from early models, bamboo is a highly durable material. Sunny also pointed out that, unlike a small crack in a carbon frame, cracks in bamboo will not split the bicycle and jeopardize the rider.
Being green is not just a fad. And the message of buying sustainable and local doesn't apply just to farmers' markets. It's a lifestyle choice.
For those in Singapore, it's good to know that Bamboobee is based in Singapore and created by Singaporeans. Four local craftsmen finish up the handcrafting process and the bikes are assembled and quality-checked right here in town.
Most bamboo bike companies are Europe- and US-based. Having a local company cuts down on the carbon footprint of having (and loving) a bamboo bike of your own.
Bamboobee's team has invested a lot of time in researching to bring to us a remarkable and frankly, beautiful product. It's more than a product – it's a statement in how we choose to live. Back to the basics – adventure, enjoyment, simplicity, without sacrificing style and uniqueness.
The research has transformed what may have been a "hobbyist idea" into a bike that is both aesthetically pleasing and with strong engineering kudos.
"I would say a 200% improvement in the quality – how the joints meet, how we are finishing the ends of the bamboo…Each piece is handcrafted."
With an engineering background, Sunny wanted a bike that has both strength and integrity. The single biggest problem they faced is the common problem of bamboo cracking. Despite its high load tolerance, bamboo has a tendency to crack. "A crack will degrade the aesthetics. We believe this is very important so we went through so much trial and error to overcome the problem".
The bamboo used in Bamboobee's handcrafted obee bikes is harvested from the mountainous regions of Hunan, China. At higher altitudes, bamboo enjoys slower growth. In a quiet and scenic area, the villagers search for specific requirements before cutting the bamboo above the roots to allow for regrowth.
50% of the handcrafting is then completed at another village.
Sunny insists because of their scale, Bamboobee is not a social enterprise. "You can say from a social perspective, we are helping but the aid is still minimal. At least we are making an impact. We aren't producing 300 bicycles, and needing lots of raw materials. So it's still a very small-scale business".
Crowd mentality can be dangerous, except when we are working together to fund a beautiful dream.
Kickstarter offers different tiers of pledges, from $1 – each level has its own benefits, even if it's just a shout out.
The pledge amounts for the bikes are far lower than retail prices. The basic model of the Revolution retails for $1050USD and can be yours for $600USD + shipping through Kickstarter.
It's great to get in on the ground floor of a project.
Approximately 70% of the 20+ component obee is done with bamboo – frame, stand, mud guard, chain guard, pedals, and even the rim is retrofitted with bamboo skin. Depending on the accessories (and therefore amount pledged), it can be 90% bamboo-made and customized (height, braking systems, joint colours, components, etc).
You don't have to be an eco-warrior or a road-warrior to enjoy a beautiful green bamboo bicycle.
Leisure riding and spending time outdoors is a great anti- stress remedy and fantastic for our health.
To be part of a inspiration is just a bonus.