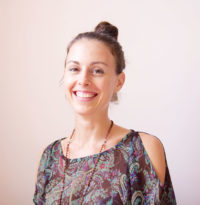 About
A native of USA and relocated to Singapore since 2006, Amber has had a passion for moving the body from early childhood with gymnastics and dance. This love, combined with more than 15 years of study and practice in the areas of Yoga, Ayurveda and Meditation, as well as a PhD in Biomedical Engineering in the field of stem-cell tissue repair, contribute to Amber's unique perspective on healing and self-discovery through the combinatorial influence of scientific and ancient wisdoms.
Since 2009, Amber has studied directly under the tutelage of many Masters, learning to share Active Meditations (using sound and movement), as well as being certified in Yoga-Dance, Universal Yoga, Hatha Yoga and Yin Yoga, Reiki, Elemental Yoga Therapy, and Ayurvedic Lifestyle Counselling.
In 2009, Amber founded a community in the heart of Singapore known as Satsanga (www.singasatsanga.com) where she offers weekly yoga and meditation classes, kirtans and community events, as well as Elemental Yoga Therapy consultations.
Certifications and Training
Meditation
Continuous study and assistance under the guidance of Swami Maitreya 2009 – present
– learning to share Active Meditations, organize meditation retreats, and facilitate meditation workshops
Vipassana 10-day retreat at Dhammagiri, Igatpuri, India, teachings of SN Goenkaji January 2011
Vipassana 10-day silent meditation retreat, teachings of SN Goenkaji, Singapore April 2009
Yoga
[su_row][su_column size="1/2″]
Universal Yoga Teacher Training with Andrey Lappa
100 hours Yoga Alliance Certified
Level 2 Theory + Practice: Mandala Asana Sequences, Pranayama, Mudra, Mantra, Bandhas, Shiva Nata
November 28 – December 7 2014
Elemental Yoga Therapy Training (200hr)
Swara Yoga School, Portugal
July – August 2013Universal Yoga Internal Practices (Mahasiddha lineage of Vajrayana Buddhism) led by Master Andrey Lappa
June 18 – 29, 2011 100 hours Yoga Alliance Certified
Private Yoga Study of Universal Yoga with Master Andrey Lappa, Lama Phuntsok of Karma Kagyu Lineage, and select students
Nepal
April 2011
Yin Yoga Teacher Training with Paul Grilley
30 hours Yoga Alliance Certified: Anatomy, Chakra Meridians, Yin Yoga
February 12 – 17 2011
Universal Yoga Teacher Training with Andrey Lappa
100 hours Yoga Alliance Certified
Level 1 Theory + Practice
Mandala Asana Sequences, Pranayama, Mudra, Mantra, Bandhas, Shiva Nata
December 1 – 12 2010
[/su_column][su_column size="1/2″]
Bhayala College of Yoga, Saharanpur, India
Daily study in Raja & Hatha Yoga with Sri Raj Pal (meditation, pranayama, asana, yoga philosophy) including 45 days of silence
January 14 2010 – February 28 2010
Krishnamacharya Yoga Mandiram
Certificate in 4-week Heart of Yoga Intensive (yoga asana, philosophy, sutras, yoga therapy, vedic chanting, meditation, pranayama)
200 hours Yoga Alliance qualification
Chennai, India
February 2 – 27  2009
Bhayala College of Yoga, Saharanpur, India
Hatha & Raja Yoga intensive at ashram of Sri Raj Pal (meditation, pranayama, yoga asanas)
July 1 – 12 2009
Yoga practitioner practicing Hatha, Vinyasa, Ashtanga, Yin, Universal, and Kundalini Yoga.
2000 – present
[/su_column][/su_row][su_spacer]
Ayurveda
[su_row][su_column size="1/2″]
Yoga Wellness Coach Certification
with Cate Stillman YogaHealer.com
July 2014 – June 2015
300-hour Living Ayurveda Lifestyle Consultant Course
with Cate Stallman Yoga Healer.com
September 2012 – June 2013
300-hour Living Ayurveda Lifestyle Consultant Course
with Cate Stallman Yoga Healer
September 2011 – June 2012
750-hour Ayurvedic Lifestyle Consultant Course with Vaidyar Atreya Smith, European Institute of Vedic Studies & with Dr. Sunil Joshi
Vinayak Panchakarma Centre, Nagpur, India
September 2010 – September 2011
[/su_column][su_column size="1/2″]
American Institute of Vedic Studies
300-hr: Certification as Level 1: Ayurvedic Lifestyle Consultant
Directed by Dr. David Frawley
May 2008 – 2010
Ayurvedic Anatomy + Physiology
presented by Dr. Satyam of SVYASA University
30 hours, Singapore
June 2009
[/su_column][/su_row][su_spacer]
Reiki
[su_row][su_column size="1/2″]
Reiki, Usui Shiki Ryogo
Level 1 Certification & Attunement
with Elaine Hamilton Grundy at The Reiki Centre
Singapore 2010
Reiki, Usui Shiki Ryogo
Level 2 Certification and Attunement
with Elaine Hamilton Grundy at The Reiki Centre
Singapore 2014
[/su_column][su_column size="1/2″]
Reiki Healing 101
with Elaine Hamilton Grundy at The Reiki Centre
Singapore 2014
[/su_column][/su_row][su_spacer]
Science
[su_row][su_column size="1/2″]
PhD, Biomedical Engineering
University of Alabama at Birmingham, USA 2005
Masters, Biomedical Engineering
University of Alabama at Birmingham, USA 2002
[/su_column][su_column size="1/2″]
15 International Peer Reviewed Publications in the area of Bone Tissue Engineering and Stem Cell Tissue Repair, 2001 – 2014 (5 are first-authored)
[/su_column][/su_row][su_spacer]
Nutrition
Raw Food Chef Certification
Level 1: The Seeds of Life
Ubud, Bali
December 18 2014 – January 1 2015
[calendarizeit organizer="satsanga"]