Pavla Williams is an expat mom based in Singapore, a Nutripuncture practitioner, and the owner of Orgonites Singapore. In this interview, we speak with Pavla about Orgonites – what the heck are they and why you should get yourself one!
Can you tell us what Orgonites are?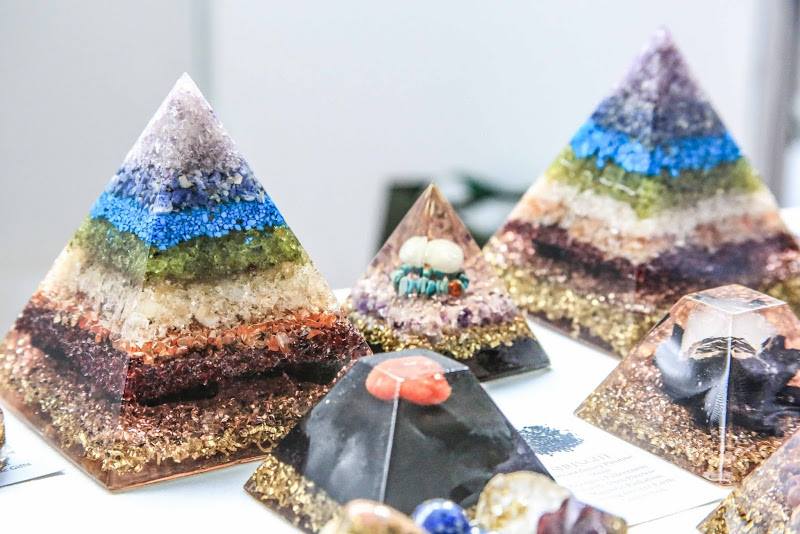 Orgonites are man-made devices comprising of resin, metal shavings, and precious gems. By mixing these components together we get a strong transformer, which changes life energy around it.
Orgonites regenerate energy in everything – spaces, plants and trees, water, pets, and humans. They can significantly magnify healings and are powerful electronic smog fighters in our homes, because they reduce the amount of negative electronic energy from wifi routers, PCs, TVs etc…
The term orgonite derives from "orgone" – a term by Wilhelm Reich, student and close friend of Sigmund Freud, to describe essential energy, also known as chi, prana, and ether.
Reich did a great deal of research on the behaviours surrounding orgone energy and had written a number of books on the topic. He is not very known, but he was ahead of his time in the fields of psychology and psychiatry and for a number of years, he was the director of Freud's free ambulatory clinic in Vienna.
He constructed a powerful orgone accumulator with metal and organic material, which he called "Cloud Buster". This device could be used to cause rain and other weather phenomenon. We do not know a lot about his work as it was destroyed and he died after that. Reich did however witness how orgone radiation was capable of counteracting nuclear radiation.
It was Don Croft early 2000s who took Reich's research forward to the Orgonites we know today, bringing this energy device to many more people.
How did you discover Orgonites?
In 2014 I was visiting my parents in the Czech Republic and I was introduced by my mum's friend to Orgonite amulets and pyramids. I instantly fell in love with them. I had this "aha moment".
I had not seen Orgonites in Singapore and I thought how amazing it would be to share them with this incredibly energy- and people-dense city?
I got myself introduced to the suppliers, a couple who have devoted their lives to creating 0rgonite pyramids and jewellery and who have turned this passion into their livelihood.
Orgonites Singapore was established in August 2015 and since then I have been importing and sharing these wonderful Orgonites and their amazing energy with Singapore, Australia, and Malaysia.
How did the Orgonites feel to you?
I feel energy from them, tingly and warm.  Different. The lady we visited had a ton of Orgonites. We were there for a few hours and when we left, we were giggly and feeling the high vibrations!
Have you always been sensitive to energy?
Since childhood I have been fascinated with crystals. I didn't realize I am sensitive to energies and I thought what I felt around some places or persons was normal and that everyone else felt the same.
I was always able to pick up on other people's feelings and if people were being dishonest. It was not until adulthood that I started realizing I was also being thrown off by other people's energies on the MRT, for example and I started questioning what was going on, reading more about it, and shielding myself energetically.
How did you get initiated into the world of crystals?
When I was about ten years old, my friends and I were invited on a coach trip to a beautiful UNESCO site with a group of grannies, one of them being a friend's grandma. We were exploring the area around this amazing cathedral and in a small hidden alley, we discovered a crystal shop.
Time stopped and we were enjoying ourselves, holding different crystals and chatting with the shop owner. That day ignited in me a lifetime passion for learning about unseen energies, coincidences / synchronicities, and anything considered "New Age". I sometimes wonder if my experience was stronger due to the strong energies of the historical town we were visiting – Kutna Hora.
Editor's note: Google Electromagnetic Field (EMF) and a plethora of information lands on your screen. It can be overwhelming and because the link between EMF and symptoms are not so obvious and EMF itself is invisible, many people find it challenging to forgo the many conveniences of technology.
There is no need to give up our cell phones, baby monitors, laptops, and other devices that have connected us as a global village. We can adopt some simple habits and use tools like orgonites, along with responsible use, to enjoy convenience and better well-being.
Here are some habits to consider:
Turn off your router at night
Enjoy a device-free bedroom. Opt for an analog clock.
Create a 6-ft zone around the bed for maximum rest and rejuvenation. Make this area free of appliances, wiring, electric devices, fuse boxes, smart meters, spring mattresses, baby monitors, etc.
Wire in – use a wired mouse and keyboard and wire your laptop into the router instead of using wifi
Use laptops on tables, not the lap.
Place cell phones away from the body and place them on airplane mode as much as possible
Use an airtube to speak on the phone. Place your phone on a table and use a speaker phone.
One of the reasons you use and bring in Orgonites is EMF. Can you explain?
Reich categorized EMF energy into three categories: Neutral (OR), Positive (POR), and deadly (DOR).
Here is a quote from an article by D. R Gahan in Waking times that explains this –
DOR is actually POR, (Postive Orgone Energy) but "armored" as Reich called it. "Armoring" means that the living energy doesn't circulate freely any further, but has been compromised into a rigid form. Whenever a knight wears his armor, he cannot move that freely and the same is applicable with energy when "armored". Take a look at mother nature. When water flows freely, it's full of vitality and life in it flourishes. When water turns stagnant, it develops into a stinking pool, and life in it is dissipated. DOR is negative, that is, it suffocates life types.
DOR energy is human-made, simply by technology, such as equipment and microwave transmitters, actual physical break down of the landscape, but also simply by human emotions. A location where a violent death happened, for instance, will retain this DOR imprint on that place for some time. A residence where the inhabitants have a lot of negative emotionally charged reactions will also be filled with DOR. The human body itself can likewise be armored, that is, by long-term psychologically and mental complications, man's creative expression may be blocked or dammed up, leading to contraction of his / her energy, quickly or slowly resulting in disease.
As people we are open to energy systems. This means that we can't shield ourselves entirely coming from our environment. We are continually subjected to the actual energies in our environment. They affect us whether we're conscious of this or even not. Therefore it is important to transform any DOR that surrounds us all into positive POR.
EMF pollution contributes to the developing of disease in all living organisms. I believe there is no coincidence in the uprise in illness and the level of EMF. Our bodies are under stress from so many factors and we are unknowingly making our problems worse with our constant exposure.
We have become so addicted to our mobile phones, laptops, etc that we cannot live without them. Recently, I encountered an interesting scenario. This lady was trying to bring her mobile phone into a hot stone therapy session. Here she was paying for a session of relaxation and rejuvenation and yet she was not able to switch off – just close her eyes and relax. She wanted the benefits of the therapy but did not realize that a simple habit like checking her mobile phone actually interferes with that.
Many people are not able to see the link and so many people now are dealing with exhaustion, adrenal fatigue, liver issue, inability to sleep, headaches, etc.
Can you explain more about these health concerns?
Each living cell functions by means of electrical impulses. Every single cell has its own frequency and every activity on Earth creates oscillations or vibrations. Living beings are harmonious energy fields with various frequencies. Different frequencies from the outside environment can disrupt the harmony in a healthy human, animal or plant and create imbalance or dis-ease.
In the past, people were more in touch with nature and intuitively avoided negative places. The Native Americans, for example, studied an animal's organs and if they were diseased, they concluded that particular area was harmful and they moved on.
Babies and small children have this instinct still and they avoid negative rays by sleeping in the corners or diagonally in their cots. Animals too.
I see this issue quite simply, although if we go deep into it, it will be very complex and it would most definitely cover hundreds of pages on this topic. It is aparent that long-term exposure to EMF has been linked to significant diseases, including cancer, brain tumors, diabetes, depression, heart disease, Alzheimer's, Parkinson's, and even suicide. Scientific and medical communities are only at the beginnings of realizing the impact of EMF on living organisms.
Why do you choose to import these specific ones?
I have developed a really great relationship with my suppliers. Over the past three years, I have learned a great deal and I import Orgonites based on customer feedback as well as what I think would be great for a busy dynamic city like Singapore.
I currently import about ten types of Orgonite Pyramids (from 4cm to 15cm bases), amulets, mobile phone EMF protectors, Flower of Life coasters … Not only do Orgonites have an important function, they are also beautiful decorative items for our homes.
For Orgonite "connosieurs" I am also able to provide earrings, necklaces, rings, bracelets, chakra sets, and so on. These I don't keep stocked in Singapore since people are still new to Orgonites and most people want to start with pyramids and protectors.
The great thing with my suppliers is I can order customized pieces. This means I can get Orgonites to meet different needs and design preferences. The possibilities are endless, especially with customized Orgonites.
What is special about the Orgonite Pyramids that neutralize EMF?
These pyramids contain a special crystal called Shungite. This crystal is fairly new to Singapore and Asia in general. Many people are familiar with Black Tourmaline, which has similar properties. Shungite is very special and quite a recent (1985) discovery of a new crystalline form of carbon – "Fullerenes", an ancient meteorite contained in Shungite. Its unique molecular structure protects the human body from the damaging effects of free radicals!
Shungite is gaining fame all over the world for its incredible water purification properties, capability of reducing the effects of EMF radiation, and physical and spiritual healing.
What are some other types of pyramids?
I also bring in calming and healing types of pyramids that are great for the bedroom, for rebalancing and harmonizing the body overnight whilst "guarding" the energy in the bedroom environment. These pyramids contain crystals like Charoite, Amethyst, Blue Howlite, Rose Quartz, Carnelian, Citrine, Peridot, Sodalite, and so on.

What are your personal favourites?
It is difficult for me to decide from the whole range! I am a big fan of pyramids. The colourful pyramids remind me of Christmas snowglobes – they have a little story going on inside of them… They fascinate me and I am really grateful that I have the opportunity to work with them and share them with Singapore and hopefully one day, with the world!
What is the best way to choose an Orgonite?
Anyone interested in purchasing Orgonites for EMF modulation should consider a few factors – how dense is the area where they live, how many electronics are in their space, is their property near a power station or a satellite, and so on.
The most common Orgonite shapes are pyramids, pucks, and conical. The pyramid is known to be very effective and I recommend readers to search online for sacred geometry articles to learn more about this phenomena.
With Orgonites, size is of course important. Smaller 4-cm base pyramids reach about 1 to 1.5 meters around, while a pyramid with a 15-cm base can reach up to 20 meters. The protective effects diminish with distance.
For large condos and HDB flats people should consider getting strong EMF-reducing pyramids for their living space and for areas where many electronics are kept and healing pyramids for their bedrooms.
Amulets are great for meditation and for placement on personal altars.
Everyone likes different shapes, sizes, and colours. Have fun choosing your Orgonite – choose what appeals to you. Colour, shape, the crystals inside, function and properties of the crystals … It is very easy to look up the different properties of each crystal on the internet and decide what is most applicable at the time.
Here is a brief description of the crystals in the Orgonite Pyramids I bring in –
There are many more like Ruby, Emerald, Charoite, Angelite, Opalite, and of course Shungite.
Apatite is a loving stone that helps to deepen our meditation and to increase motivation; also very balancing for all chakras
Lapis Lazuli heals our throat chakra for better communication.
Sodalite stimulates the pineal gland and brings emotional balance.
Blue Howlite is a calming stone that improves our patience and helps us remember our dreams.
Red Garnet is grounding and improves self confidence.
Carnelian gives courage and enhances creativity.
Citrine is a cleansing crystal.
Peridot is protective and cleansing.
Amethyst enhances intuition and helps balance the crown chakra.
Tourmalinated Quartz helps us turn negative thoughts into positive, harmonizes meridians, and helps us with digestion on physical level.
Rose Quartz teaches us forgiveness while opening our hearts to unconditional love
There are many more like Ruby, Emerald, Charoite, Angelite, Opalite, and of course Shungite.
How do we know how many Orgonites we need in a space?
Ideally we place Orgonites in every room to rebalance energies of the entire home. Most importantly electronic devices should have an Orgonite containing Shungite placed near them. Shungite pyramids have very strong energy and greatly help to counteract the negative EMF energies produced by wifi routers.
I have some customers who have placed larger Orgonite pyramids in all rooms of their property and are feeling the difference in their sleep quality and a general feeling lighter and more alert.
Are orgonites self-cleaning or how do we clean them?
Generally Orgonites are self-cleaning, perpetually working devices, though they can become a little "constipated" if they have to work on big negative energies for an extended period of time. For example if you placed an Orgonite in a mobile phone shop in a busy mall for a period of a few weeks, for sure that Orgonite would be very "tired".
On the upside clear quartz and the crystals inside can be easily cleansed – just place them in the sun once in a while – and your Orgonite will serve you forever.
Do orgonites also enhance crystal work?
Absolutely! Orgonites are rapidly gaining their deserved time in the spotlight.  They need very little maintenance and they enhance the energies of the crystals they hold.
What kind of grid do you suggest for a practitioner's healing space?
A lot of my customers are energy workers and one of the most popular items is the chakra set of seven pyramids they can place on the client or underneath massage tables. This is only available upon request since it is a rare item and I do not currently stock it in Singapore. For any energy practitioner, shielding and protection is a must and I believe Shungite in any form is the right tool to help with this.
I hope What Therapy readers have enjoyed reading about Orgonites and look forward to meeting some of you in future.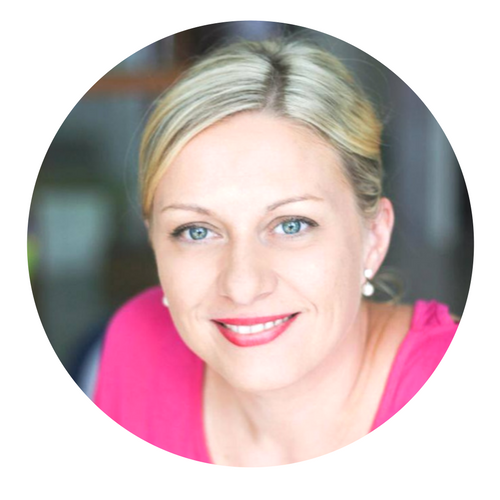 Pavla is a mother of two and having a safe environment is extremely important. As a sensitive person, she looks for effective tools to harmonize her surroundings, especially with increasing EMF. She herself uses Orgonites in her own home in Singapore and on mobile devices and has helped countless people find greater ease with these fantastic and beautiful tools. For more information, visit her Facebook Page Orgonites Singapore. You can also find the pyramids at Therapy Market in I12 Katon Mall, Alternative Store in Haji Lane, and Art of Yoga Studio On Upper East Coast Road.