Dr Gene Ang will be in Singapore from February 27 to March 8 2020. On this visit, he will offer two lectures – Metatron's Awakening Breath and Spoon Bending as well as Arcturian Healing Method levels 1, 2, 3 and 5. Private healing sessions will be available on Thursday February 27 and Tuesday March 3 2020. All events are held at Hollandse Club in Singapore at 22 Camden Park.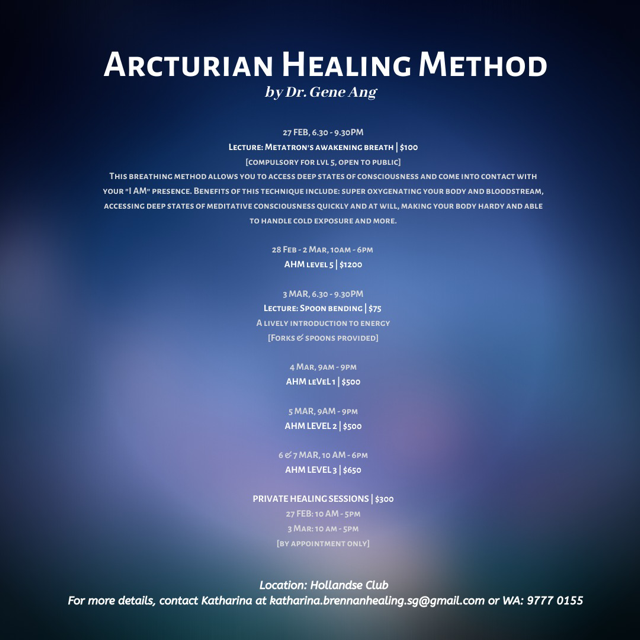 ☞ download Arcturian Healing Method event info (PDF)
Arcturian Healing Light (AHL)
Level 1 Wednesday March 4 2020 9AM – 9PM
The Arcturian Healing Light (AHL) attunes participants to a broad spectrum healing frequency called the Arcturian Healing Light (AHL). In addition, participants will learn 10 quantum healing techniques to complement the AHL during healing sessions.
Level 2 Thursday March 5 2020 9AM – 9PM
The Galactic Encodings attune participants to 4 more healing frequencies that work with aligning people to their Higher Self, healing the nervous system, working on the cellular and DNA level, and balancing the endocrine system.
Level 3 Friday & Saturday March 6 & 7 2020 10AM – 6PM
The Arcturian Platform initiates people to working directly with the Arcturian dimension, to working with powerful Arcturian Healing guides in the form of dragons, and to working with healing frequencies associated with the Earth.

Level 5 Friday to Monday February 28 – March 2 2020
The Arcturian-Metadron Devices place energetic devices into the participants subtle bodies to allow greater capacities of healing, spiritual development and consciousness evolution. These devices also allow participants to channel these specific frequencies of energies for others.
---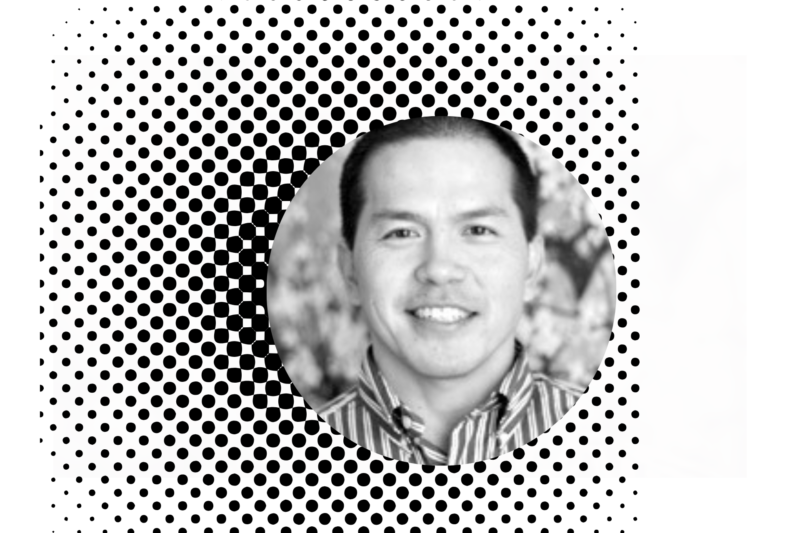 Dr. Gene Ang, PhD created the Arcturian Healing Method out of his experience with various energy modalities and his direct connection to the Arcturians.
Dr. Gene Ang received his BA from Stanford in Human Biology and Philosophy/Religious Studies and earned his PhD from Yale in Neurobiology. After more than 15 years of training and facilitating healings, Gene has now combined this knowledge into the Arcturian Healing Method.
☞ our interview with Dr Gene Ang
---
The Arcturian Healing Light (AHL) is a complete energy healing training. The techniques and transmissions guide each participant to help deepen their current level of healing abilities. This modality can be used for healings by itself or combined with the healers' current set of energies, attunements, and techniques learned from other modalities.
Dr Gene Ang's attempt is to combine the best knowledge and all energy modalities, current ideas in quantum physics and the sciences where applicable, and the spiritual connection to Higher Beings and the Arcturians in particular.
Many participants learn AHL for self-healing and inner spiritual development.
Contact Katharina at katharina.brennanhealing.sg@gmail.com or +65 9777 0155 for info and registration.