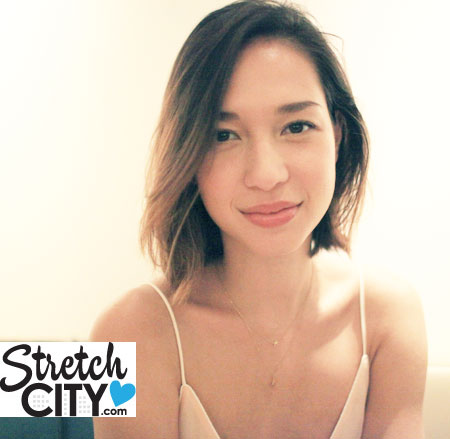 Stretch City officially launched just last month on July 1.
The creation of Fly Entertainment artiste, model, host, entrepreneur, and yogi Liv Lo, Stretch City is a yelp-like platform for people to get onboard and rate their yoga and wellness experiences around Singapore.
Its mission + vision?
A Yoga Directory + Advisory sharing what yogis love. How to live healthy and be happy. We are yogis and we want to share what we love.
What Therapy Editor met up with Liv at Real Food @ Central in June for a candid chat to find out more about this new platform in Singapore's booming wellness world.
What is Stretch City?
Stretch City is yoga listings, events + directory.
It is a yoga lifestyle website listing studios, shops, restaurants, events, and promotions related to ethical living in Singapore. Through Stretch City I want to connect the community and to make it easier to practice yoga, eat good food, and shop ecologically.
We started with studios but then my focus for the website is really to connect everything in Singapore that is holistic and healthy. Yoga is the umbrella for all this. That's why I'm not doing Pilates. I'm not doing gyms.
It started with  yoga. It started with a lot of questions. And it started with me finding the answers.  And then just putting it together and finding a good way to let everyone know.
I want to be a role model for health. It's combining all the interests and talent I have. I really hope it will catch on. It's fun. It's educational.
The Idea is to Have a User-driven Website with People Talking About the Places They Love?
The thing is that I haven't physically been to all these places but each place caters differently. Some are more focused towards hot yoga. Some are related to meditation. Some to Iyengar. Hatha. When you are new, you don't know where to start. So with the website, "ok this is in my area. This is the type of yoga I may like. This is what I need to bring. This is what to expect. This is what's good. This is what's bad."
We have elements from all of it [online market] so I think a lot of people can see that it'll be quite successful. Lots of people are saying thank you for making this – we really needed it. There are all these pockets of yoga studios and they have their own followings but they aren't really connected.
How Did the Idea of Stretch City Come About?
It started with wanting to do something online and importing a few brands. The team kinda fell apart – it didn't really work. But I still really wanted to do it. I felt like something was missing. That maybe clothing was only one aspect.
And then I thought, "how can I help people?" I thought about my position. If I were a newcomer, which I am in Singapore, what would I be looking for? What do I need? How do I find these places? How do I know it's good? Do I just keep talking to people and asking them??
Hungry Go Where. Trip Advisor. Yelp. I follow them. I get their advice and it just hit me. What if there was a location that I could find all these places and more? How helpful would it be, instead of relying on friends to find places to eat and shop.
And then, it kinda snowballed from there. I was talking to a good friend of mine, Alicia from Yoga Movement, who said that I should just make a website and put the studios on there. It started out with just studios. Then I realized it's more than that. It's the whole support network around that.
What happened was that after I took my yoga training with Pure, I realized there is so much. After my training, I went downstairs and discovered Soup Spoon across the street and Swiss Bake. There's actually a lot of healthy living in Singapore. That really motivated me. Inspired me, really, when I saw the plethora of healthy lifestyle in Singapore. I just really wanted to make it accessible. As a newcomer, I know what it feels like.
And people always ask me, "why do you practice. What do you get from yoga…" People ask me on twitter, online.
Looking into it more, I found there is more stuff and it grew, and grew, and grew. That's when the mission kinda came about. A Yoga Directory + Advisory sharing what yogis love. How to live healthy and be happy. We are yogis and we want to share what we love.
Students always ask me "what's your secret." People on Facebook or my fans and my followers. Well, the secret is out. It's really out. It's there for you to use 100% however you want.
Why Yoga?
Yoga is kinda a dynamic word. After I did my yoga teacher training [200 hour Hot Yoga with Pure Yoga], I really realized that yoga is in all of us. You just need to tap into it. Yoga, to some people, is exercise. Yoga, to other people, is healthy living. Yoga, to other people, is diet. Yoga, to other people, is buying green or other things. Or peace and quiet. Yoga really covers a lot. That is what is great about yoga. It is versatile, relatable, and suitable for everyone. No matter how old, young. Flexible or inflexible.
I did the training not because I wanted to be a teacher, but to learn about the history and origins of yoga. Yoga enhances people's lives and that's what I learned in my training. That is what I want to teach to others.
Yoga is a sanskrit word that, in literal terms, means "union" (yog). In this way, yoga unites that which is healthy, green, organic, eco-friendly, vegetarian, vegan, raw, fresh, unprocessed, gluten-free, non-GMO, and so forth.
So I created this platform to connect the community. For example, Real Food is connected to Yoga Movement, which is across the street. They actually support each other. People who finish yoga over there come here for food. Unless people are already in the community, they don't know "how do I live healthily in Singapore". If I just go for class, how do I know where to get my healthy juices or how do I continue the process beyond a yoga studio.
It is no secret that yoga is what really keeps me healthy. Yoga has slowly, but surely changed my life for the better. For me, my health is my biggest asset. If I am healthy, then I am happy. If I am happy, then I can eat right and live right.
Why Do You Think Yoga is So Happening?
Yoga is really trendy. Yoga Movement is opening up a second studio. Updog is opening another one. All the restaurants too are opening their 2nd, 3rd one…The movement is here so hopefully we are on-trend, ahead of it.
The thing about yoga is that it is time for yourself.
You have a trainer at the end of the day. Someone who's guided you and told  you what to do.
Singapore is on-trend in that way. People are already connected to this mindset. They are stressed out. We need this. We need this to get away. We need this, whether it be the physical movement, the alignments of our body just because we are sitting down, just the different aspects of yoga can bring to you.
It's particularly true for cities and that's why it got so popular in New York. In big cities where we are so busy and hectic, we do need this. Even doctors are recommending it [yoga] for people with bad backs. A lot of teachers who've had physical injuries took up the practice of yoga to heal. You can't really pinpoint why it's healing and teachers aren't trained in medicine.
Yoga is different for everyone. It calms the mind. It unclogs the system.
How Did You Get into Yoga Yourself?
Yoga's been part of my life since I was 2o. I am now 28 so I've been practicing for eight years.
I went to my first yoga class, honestly because I wanted to lose some weight. My agency was getting on my case. Turning from 18 to 20 – you could eat anything you want and then all of a sudden, "oh wait, I actually have to take care of myself."
It was in Taiwan. A private studio. I did a 7am Ashtanga class. It was SO hard. [Editor's note: If you are new to yoga and not so fit, Ashtanga is probably not the style you want to try first.] I was quite intimidated. I hurt really bad but I kept trying.
I was back and forth in yoga. It's been quite  journey but yoga is always a place I can go back to. It's also something I can do when I travel. It's also something that keeps me in check. Not just physically but emotionally.
Slowly yoga just started taking over my time and my life. I always looked forward to taking a yoga class. It became part of my routine. It got out of the physical "trying to look good" and it got into becoming more aware of my body. I started learning about diet and what's good and what's bad. I just didn't want to eat the fried chicken anymore and craved clean wholesome food. Like I said, it's been really interesting. I grew, and grew, and grew.
Eventually I took my yoga training course. I had wanted to do it for a long time but I wasn't able to, just because of schedule. But when I moved here, I was in transition – without a contract. I was able to take one month and just practice.
I would love to be a yoga teacher someday maybe but working full time as a model and Fly Entertainment artiste, it's a lot. And it kinda clashes.
Did You Find There Was a Gap in Singapore?
Yes. There are quite a few platforms out there but they all cater to the listing part. There is no advisory. It's like a magazine or events listings. They don't tell people in a way that's from the user's aspect. The actual students that go to class. What do they think about the studios?
Stretch City is a user-generated site. The students actually get to submit what they love and give tips for others. In a big way, it's also to grow the community and to share more with the people who are interested in yoga but have never tried it before.
I'm not creating anything new. The organic eating. Organic delivery. Organic clothing. All that is already here in Singapore. I'm just making them all connected.
We have a very good team of yogis, a great designer, a programmer but we need to find our voice. We need to launch and find our personality.
How Does Singapore Compare to Tokyo?
I've been in Singapore since last August. It's been great. I love being here. I am so much healthier.
I find it really inspiring how easy it is just to go and have access to all this food [in Singapore].
In Japan, I was originally vegetarian but I had to quit. People actually thought being a vegetarian, you ate chicken. They didn't understand!
So just being here and having this support system already all here, I felt it was very handy. You know, it's like trendy, upcoming – the movement is here. There are a lot of different areas, with studios, wellness centres. Unlike Hong Kong which, as a visitor, I found to be more office-driven. It's like salad is an option.
Maybe one day, Stretch City will branch out to Hong Kong. I have no idea.
You are Partly Taiwanese…How Does Taiwan Compare?
I would say Japan is green in their own way, as in recycling. They look into the future, as in solar energy and different alternate sources of energy.
Singapore's market is a little different. They do a lot of shipping – import, export.
It's a metropolis so there's really no country lifestyle.
Taiwan, I don't feel is green at all. And unhealthy, in comparison. Just the ratio of people who do exercise or are active and who are actually healthy. The religious people are, as in Buddhism. They eat vegetarian. The younger generation – it's quite sad.
What's Your Strategy for Getting People Involved, and Talking?
We are collaborating with some partners so if people rate [on Stretch City], they do get the reward as an incentive. That's just the initial. From there, it's just word of mouth. The good thing is that it's not just studios but shops and restaurants so you will always find something you know.
If you've been there, you can rate your experience. It's quite vocal. I do hope that people will spread the word, even without incentive.
Also working with other magazines as yourself and working in the health industry. It's all collaborative.
I was just looking online and the statistics on how it's grown. Our listing has gone to 54 studios, 47 restaurants, and 51 shops. Both physical and online shops. It's really 365 degrees. We're not just covering health. We're not just covering wellness. We are covering the future as being green, organic.
Our business model is quite well-rounded, I think, in our perspective. We don't just latch onto the yoga community. We are latching onto anyone who's really looking into being healthy in Singapore.
What Do You Feel is the Most Common Obstacle to Healthy Living?
It's a lack of desire.
I'm not going to say Singapore is not healthy. Every country is dealing with obesity. Every country is dealing with all their health issues. Singapore also has breast cancer which is quite high.
With Singaporeans, particularly, they do have so many options. They know what's best for them, most of the time but it's really making the choice. It's easy to eat at a hawker's stall but really it's making the choice of what to eat. There are vegetarian stalls in the hawker's court. A lot of time vegetarian stalls have brown rice. We are really spoiled for experience.
It's just choice and I really hope to be able to show from the website how easy it is. The information is all there. Maybe make a decision to try it one day, or one meal. That's a really big step.
What's Your Favourite Thing to Eat?
On my own, I eat vegetarian. With other people, I do eat meat. I love discovering new restaurants and eating new foods. I actually really like sandwiches, soups, and salads. I can eat that every single day. The Organic Baker – their restaurant Upper Crust, I go there a lot. I go to Balanced Living a lot. I come here [Real Food]. All those make-it-yourself sandwiches and wraps.
If I can't, I go to Subway. I just went to the Swiss Bake for their vegetarian set. If I go to the hawker stall, I get the purple rice or brown rice.  Or Yong Tau Fu.
Any Wellness Stories?
My mom would make us drink ginger tea when we are sick. And thyme! Eeww. So I never wanted to be sick.
My favourite beauty secret is to drink a 8-ounce glass of room temperature with a squeeze of lemon every morning. It is so good to drink water first think when you wake up as we dehydrate when we sleep. The lemon is a cleansing astringent and gives us a good wake up boost in the morning.