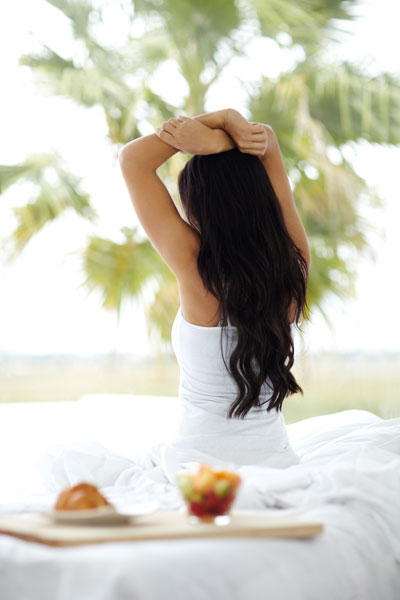 Being healthy usually tops the New Year's resolutions list, whether it's quitting smoking, drinking less, or going vegetarian. Detox programs are now the rage, but what is a detox? Usually it entails two steps. One is eliminating or reducing the toxic load, be it dietary or environmental. The other is to clean out of the body accumulated toxins. Both steps are key to give the body a head start for the New Year.
In today's world, convenience has become a priority, as people become time-crunched. It is not only processed food, but also products used in the house and on the body which can lead to toxic build-up. Detoxing is not only dietary cleansing but also an elimination of chemical household and personal care products.
Cleanse Your Body
Key indicators that the body needs a detox is fatigue, sluggishness, and weight gain. Allergies, sinus issues, or excess mucus are also signs the body is in an inflammatory mode.
As toxins and free radicals infiltrate the body, the first level of defense for the body is to release white blood cells and to absorb excess acid with antioxidants. Acids or free radicals often linger in the body's fat tissues.
The big question is to fast or to simply eat clean. Metabolic processes, or repairing the body and cleansing, are secondary to digestive processes. Simply put, if you are constantly eating, especially late at night, it is difficult for the body to repair as it is busy digesting food. A heavy meal can take 80% of the body's energy. By giving the body a break, it can do its job better and repair on a cellular level.
The next question is for how long. Research shows that fasting has anti-aging and even regenerative benefits and when done right, even one-day fasting can be good. But fasting over long periods of time is not suitable for everyone.
Before any major cleanse, ensure you have a "clean" diet for at least a week. First reduce or eliminate alcohol, caffeine, processed food, white sugar, and gluten. For the fast or the detox itself, choose between a juice fast and an alkaline diet. This will help the body get rid of excess acidity, or inflammatory foods. An alkaline diet consists of most fruits and vegetables and no meat, dairy, gluten, alcohol or caffeine.
Consult a nutritional counsellor, who may prescribe special herbs, charcoal, or clays during the cleanse to absorb toxins built up in the small and large intestines.
Give the body at least 10 to 12 hours where it is not processing food. This means taking the last meal at around six or seven in the evening, and truly "breaking the fast", by having breakfast at six or seven in the morning. This gives the body a proper chance to heal during the night.
For a beginner's detox, start the day with a glass of warm water and lemon to alkalize the body. Eliminate as much as possible meat, processed foods, alcohol, dairy, coffee, bread, and sugar, and increase the intake of clean water, fruits, vegetables, legumes, and nuts. Eat as organically as possible.
Sweat It Out
During the detox, try a daily brisk walk, swim or yoga to get the body moving and to produce sweat. Limit time in air conditioning, and raise the body's temperature to get sweating, aiding the natural detox process.
Consider an infra-red sauna session as well. Infra red sauna's heat penetrates into the skin, bringing up core temperature, rather than the surface only, inducing the release of toxins from the deeper adipose layers. With lower humidity and heat, it is a more comfortable and safer option than conventional saunas. Infra red sauna sessions are available in Singapore at Verita and at Medi Therapie.
Lymphatic Drainage
The lymphatics are the body's rubbish collection and disposal system. When overwhelmed, it can become sluggish. Dry brushing, from the extremities towards the chest, is a good way to get the lymphatic system stimulated.
Jumping with a jump rope or on a trampoline is also an excellent way to get the lymphatic system moving. Or try a lymphatic drainage massage.
Stimulate the lymphatic system daily, especially during a detox program.
Manual Lymphatic Drainage Massages are available at Therapeutics Aroma at the Forum and other wellness centres.
Colonics
Colonics can be a good way to clear the body of toxins and old undigested food. On average, a person can carry between five and 20 pounds of undigested or dried food in the small and large intestines, which can impact nutrition absorption and create toxicity.
As a first timer, consult a professional Colon Hydrotherapist.
An environmental detox and mental detox are also key during any intensive detox program. Check out our tips in next week's article 360 Degree Detox on how to reduce the toxins in your home, your workplace, and on your body.