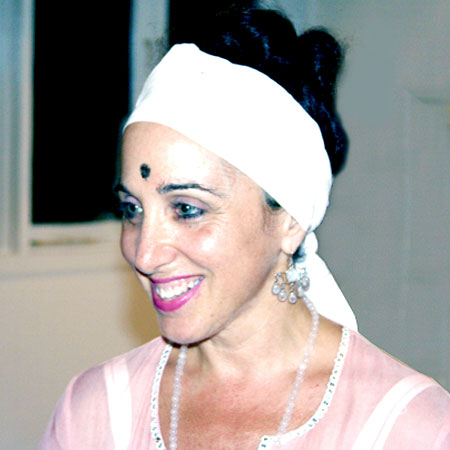 Rebecca Pflaum, a longtime Singapore-based Kundalini Yoga teacher, is relocating to Bali to start her next grand adventure.
Anyone who knows Rebecca would know her connection with Bali started many years ago, and is where much of her own personal growth has taken place. It is no surprise she's making it her new home.
Rebecca is also the founder and creator of the beautiful Chakra Ma Jewelry and the Shakti Centre, where she has been offering Kundalini Yoga and gong meditation.
I met up with Rebecca for a fabulous chat, a quick break in between her errands. We spoke about Rebecca's new love, abundance, yoga, life, and much much more.
I heard through the grapevine sometime back about your new retreat centre in Ubud. It sounds beautiful and exciting. Why do you feel the pull to open a retreat centre now? In Bali?
Bali is a real meeting point, a gathering point. I have "family" there and it's such a special place in my heart. I have always thought "yep, after the kids are grown". [Rebecca's youngest heads off to uni this year]
I just can't think of any place I would rather be. I can't think of anything else I would rather do at this point in my life. I want to create a place for people to come to. I really want to build a holistic space for others to come in, to share their gifts, and to share their teachings. To open their magnanimous hearts for healing and happiness.
I don't do a lot of astro/psychic readings but about a month ago, I had this beautiful reading. He said that for a lot of my life, I have been a wonderful guest. I have travelled and I have listened. I have been diligent and I studied. But now, it doesn't suit me so much anymore. It's time for me to sit at the head of my table. [There was a noticeable pause as we both take in the energy of this last statement – sit at the head of our own table. Beautiful]
And it's happening. Everything has lined up so that I can do this. It's all just falling into this beautiful divine place.
The retreat centre is called Naya. It's beautiful. Does it have a meaning?
I first went to Naya February 14 and I asked the owner what the name means. He actually didn't know! His manager named it. So I went on good ol' Google and the first meaning that came up for Naya was from the language Hebrew. "God Answered." In Sanskrit, it means "a new beginning".
It is totally perfect. I am not going to mess with that name. It rolls off the tongue. I love the meaning. Naya, it is. It's really perfect.
What do you envision for Naya?
It's not officially launched. A few days ago we started building the new yoga shala. It's going to be 8×14 metres. That will be finished in September.
Right now, it's more like a nice villa stay. You don't have to do yoga.
You don't have to be on any set retreat. And yes…..there will be wine and beer, if you want 🙂
I do feel that in a very short period of time, it will be booked up for retreats. Lots of requests already. Again I haven't officially launched it yet.
The first one is a Yoga Teacher Training?
Yes, it's from October 6 – 19. It's quite a bit different from most teacher training. You do get certified with the Yoga Alliance. It's the first module – 108 hours.
Our program is about empowering women. We want to present it in a way that is for women. There is a wealth of information that women need to understand to start to receive. And real hands-on tools for every aspect of life so they leave feeling able and empowered. Be reminded of who they are. How to take care of themselves. How to look at their bodies. And to understand our blissful nature.
It's also about empowering women by sharing all aspects of running a business. A lot of this will be covered by Meghan [Pappenheim], who started Bali Spirit and The Yoga Barn. She's been in Bali for 21 years. She knows. A white woman from New York going into Indonesia. The success, the pitfalls, the rising and falling – everything she's been through. I think she's got a lot to offer.
What other workshops do you have planned?
In November, I am doing a retreat with this beautiful woman called Christina who teaches the root of African Cuban dance. Things like Salsa. Her work is so beautiful.
We did a retreat last year in Bali that was way too much fun. [Rebecca laughs]
We called it The Cuban-Kundalini Connection – the morning we did Kundalini Yoga and the afternoon Christina taught her Cuban class. The roots are so deeply enmeshed in spirit.
And at night, we did salsa dancing. It was phenomenal.
Another retreat in November, we are doing with Kevin James, with Sachiho from Okinawa in Japan. She does sound healing meditation for the heart. Together, we are doing a 6-day retreat called Sacred Sound and Movement. That's November 13 – 19.
The other one is in February. Her name is Chia Shinya and she's got a Japanese magazine called Veggies. She's an amazing chef and she does everything – raw, vegan, vegetarian, cooked… We are doing a 7-day workshop called "7 Days, 7 Cuisines, 7 Chakras". That's February 7 – 14.
Will you also be teaching Kundalini Yoga at Naya?
Yes!
So…the general perception is that if you raise your kundalini too fast, you could split energetically. Can you speak about that?
Kundalini is our creative potential. It's real. It exists.
The amazing thing about raising, tapping into this energy, as was taught by Yogi Bhajan, is that you are preparing yourself for the freedom of that energy. Through the preparation, through the breathwork, the movement, and chanting, the vessel – our body and mind – is ready.
You need to prepare yourself physically, mentally, and energetically.
In all the years I have practiced it and sitting with some great teachers, there has never been a bad experience.
When we understand what we are dealing with and we prepare ourselves, we are totally fine. You receive what you are ready to receive.
It is just amazing. I really love it. Every time I practice or teach it, I am still amazed by it. Only positive. It definitely helps us stay self-empowered.
Yogi Bhajan would say, if anyone comes to you and says they will raise your kundalini, you say no thank you and walk away. Those are his teachings. And it really resonates with me as being true. Because you have to be responsible. It's your body. Nobody can do it for you.
Yes. It's like what they say – if you take responsibility for your life, there is no one else to blame.
Yes, but wow. It feels so good. Your whole life will go into a new dimension once you accept responsibility. There's nothing like it.
By the way, I love your Chakra Ma jewelry. They are also made in Bali, right? How did Chakra Ma come about?

Yes – the malas are made in Bali. The bracelets, Thailand. Soon all will be be produced in Bali.
The idea of Chakra Ma started back in 2006, 2007. I woke up one morning – I don't mean I was awakened –I literally woke up one morning from sleeping and thought I had to put charkas on jewelry. I had no business background, no jewelry making background..it was just an idea. For me, it's all intertwined – my yoga, my teaching, my jewelry, my retreat centre.
And I love that! Some people think to be spiritual or to be a yogi, you have to be austere.
That's an old, outdated idea. We are goddesses. We like to dress up! Wear silks. Things that flow. I mean to me, beauty is spiritual. To me, beauty is another manifestation of the divine. It's to be celebrated. Just keep it in balance.
Yes – not to be addicted.
Not to be addicted!
You don't need to be addicted to austerity either. It works both ways.
I wonder which addiction is harder to get out of?
[We laugh]
It depends on your conditioning, your belief system.
Let's say you are a yoga teacher who has a lot of money as a form of abundance. I think the key is that you have to remember where this source of abundance comes from and where the source of your happiness comes from.
It's okay to enjoy your material abundance, whatever form it comes in. You don't have to feel guilty about it. But if you lose it, will you still be happy?
So – understand that they are a manifestation of your own abundance, not the source of your abundance.
Exactly. If you do lose a bunch of money, you can still be happy. Because the money itself is never the source. It is a currency. A flow. It does allow things to happen. For me, if I didn't have that abundance, I couldn't have created Naya. It does have its purpose.
And there is a real sense of abundance that has nothing to do with the outside. It's the abundance inside of you. There isn't only one form – it comes in many forms.
The only one we can really "control" is the one on the inside.
What are your tips for people to find that source, to live from that source?
Yoga. Meditation. Mantra. Dancing. Eating a certain way. And not denying yourself. Practicing gratitude.
I'm not saying these are the only things. I can only speak about what I experience. I'm sure there are other things I don't even have a clue about.
Do anything that raises your vibration, the frequency of your vibration. That's the key, I believe, to stay in an abundant energy field. And not just material, right?
The more we can keep our vibrations lighter and higher, the better chances we have to stay in that love, joy, happiness, and abundance.
What's the surefire way to know you are out of balance?
That you are unhappy. That you don't feel joyful. You don't feel inspired. You don't feel creative.
I think it's our nature to be creative. I think we have overcomplicated everything. Right?
Yes, absolutely.
It's also part of our journey. All I know is that if I go three days without doing my practice, I am a different human being.
And you have been practicing for years. For you to say three days..wow.
Yeah, that's my limit.
And I love what you said earlier about your kids. That you separate their actions from who they are.
[We had a long catch up!] Exactly. Exactly.
And that you do the same for yourself.
Yes, people get stuck when they identify themselves with their actions. Or when they identify themselves with the car they drive or the house they have or the jewelry they wear…They misidentify who they really are.
Again, it's not "don't enjoy that stuff". Enjoy them thoroughly. Share it. Share your abundance.
It flows better that way.
It flows better that way. You aren't them. You are just experiencing them. It's not actually who you are.
There's a fair bit of misidentification here in Singapore. What would you say is the biggest difference in the energy between Singapore and Bali?
I would say in a certain way we feel more limited in Singapore. It's almost like the reputation of "all there's to do is shop and eat". I love to do both of these. Let's be honest, I do. But it's not enough.
And I think just being surrounded by concrete, glass, and shopping malls, it shifts the energy field here as well. So of course when you go to places like Ubud, it's just more open to the vibrations of nature. Even if I go to the Botanic Garden, already I'm "ooh".
So it's what you are surrounding yourself with. We are very sensitive to our surroundings, whether we are conscious or not. Sometimes when you are here [in Singapore], you have to work a little harder.
What I personally believe in is that we are already perfect. But we forgot. So our journey here on earth is to remember.
If you have a belief system that allows you to believe you are perfect, you will live a much different life than if you believe that you are so imperfect and born in sin and that your nature is evil. It's our choice. It's really our choice.
We are the only creatures on the planet that have free choice. We aren't helpless.
We are incredibly gifted, creative beings so full of potential, love and abundance.
---
Naya Ubud www.NayaUbud.com
Women's Yoga Institute www.WomensYogaInstitute.com
(all photos courtesy of Chakra Ma Yoga + Jewelry; video from the Women's Yoga Institute)