Are you a practitioner or a wellness centre in the alternative, complementary, holistic or integrative sphere?
Join the What Therapy Holistic Health Directory and enjoy a highly targeted audience, interested in what you have to offer.
What Therapy offers fresh content and information on how alternative, complementary, holistic, and integrative therapies can contribute to everyone's wellbeing and wellness. We share the latest research + thought on energy, plant, and non-allopathic medicine and how powerful the mind-body-spirit connection is in our pursuit of health.
What Therapy is an information portal that supports your wellness practice by raising awareness about what you do!
We offer an alternative perspective aimed at bridging you and mainstream audience.
For complete details, contact What Therapy at Hello@WhatTherapy.com for the media kit.
What Therapy's Holistic Health Directory is the perfect way to get your wellness practice or centre in cyberspace. Having a strong online presence to get the word out on what you offer and how you can help and contribute to other people's wellness + lives. Singapore is an expat-friendly city and newcomers rely on the internet to get connected.
Through the directory, we are building a Singapore wellness community. With the ratings feature, online word-of-mouth gives your practice even more buzz.
There are 3 tiers in the directory listings to meet your needs.
The Basic Listing is free. For a bigger online presence, choose between a Standard or a Full Listing.
The Basic Listing (free) includes:
– Your name or the name of your practice (or both)
– Physical address (if applicable)
– Telephone and mobile phone numbers
– Unlimited modalities
– 1 review/testimonial (ratings will appear in Google search results!)
add-on: list 6 events on the What's On calendar for $60
Need a featured event for even more exposure? Email What Therapy for more information.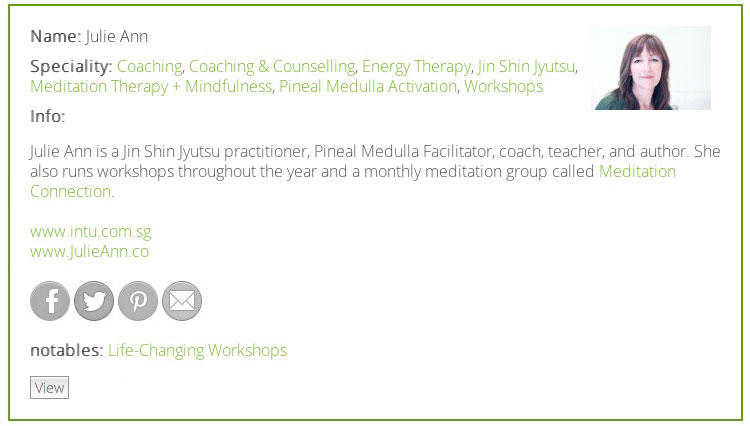 The Standard Listing ($200) includes:
All the perks of the Basic Listing PLUS
– A highlighted listing that appears at the top of the directory (before Basic Listings)
– Photos and logo (or choose a slideshow as an add-on)
– A write up about you, your modalities, and your practice
– Links to your website, press release, social media + more
– 10% off advertising rates
– Unlimited reviews/testimonials (Ratings appear in Google search results!)
The Full Listing ($600) includes:
All the perks of the Standard Listing PLUS
– An interview/article posted on the What Therapy website and shared on all social media and newsletter.
– A display ad in one issue of the What's On newsletter "Happenings 'Round Town"
– Monthly featured event listing in the What Therapy calendar and in the What's On newsletter "Happenings 'Round Town"