EVENT :: Body Mind Alignment Tarot Workshop
DATES :: Saturday & Sunday December 2 & 3 2017
TIME :: 10AM – 6PM, with one hour for lunch
FEE :: $980 (new students), includes a Waite Tarot Deck with pouch and reading cloth and reference books
Join Adrienne Tan in her first Singapore offering of her 2-day workshop to learn Tarot. Adrienne has been teaching this workshop since 2011.
What is the Body-Mind-Soul Alignment Method?
This reading approach offers (body) awareness of personal health challenges and provide advice for physical improvement. (Mind-Soul) In-depth guidance allows a person to gain deeper insight into their own personalities, relationships, finances, and other areas and issues in their lives.
A reading reveals important information that allows a person to make better decisions in times of uncertainty, confusion, and crossroads. This is a powerful tool anyone can learn in order to help themselves and others to grow and enhance their relationships, career prospects, future opportunities, and spiritual path.
The Body-Mind-Soul Alignment Tarot Workshop
This 2-day workshop teaches you the history of the Waite Deck and the foundation and skills for card reading. You will learn the basics such as the meanings of the Major and Minor Arcana, the elements and suits, and the different card spreads. More importantly, you will learn to interpret the cards in different positions and in relation to each other.

Adrienne's workshop includes reference books that she has written from years of experience which will show the student practical ways to approach the cards. This workshop allows the students to practice what they have learned and all students are invited to participate in a WhatsApp group chat, in which they can ask for advice in reading for themselves and others.
One of the strengths of Adrienne's approach is how easy and fun she makes card reading. Her students leave feeling more confident and everyone, with practice and dedication, can be a proficient reader and even a professional.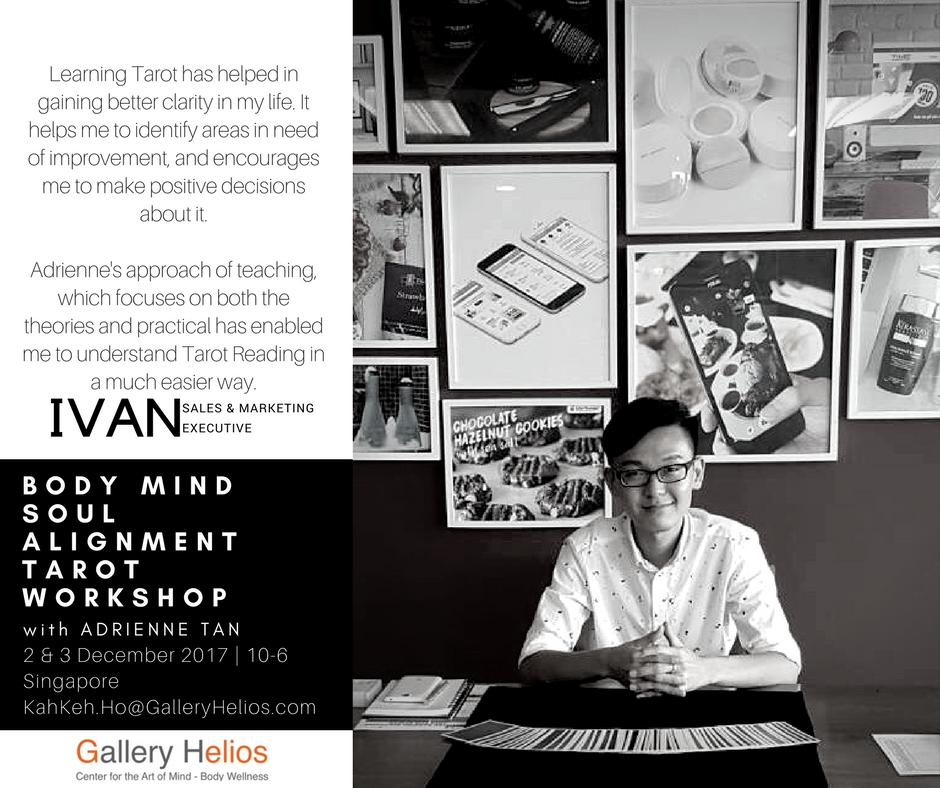 Through Adrienne's Tarot class, we not only learn about the Tarot, but of life itself.

We learn to interpret the cards to give us guidance, advice, and encouragement and take responsibilitiy for the decision we make. We also learn to find the root of the problem and seek the answers from within our heart with the messages from the cards.

Her classes are fun and enlightening and her notes are easy to understand and absorb. She also encourages all her students to keep in contact so that we can continue to discuss what we have learnt in class and also share new knowledge with each other.

Every time I have a question about a Tarot reading or a personal issue, I know that Adrienne and my fellow classmates are around to help and I'm very grateful for that!
Cassie Tay, Executive
Day 1
*Benefits of reading Tarot for yourself and others
*Introduction of the Waite Deck
*Choosing the Waite Deck to work with
*Understanding how the elements and the numbers work in the Waite Deck
*Understanding the meaning of the Major Arcana and the Pentacles and Wands of the Minor Arcana
*Explanation of different card spreads, including the 3-card spread, Pyramid Spread, Horseshoe Spread, and the Celtic Cross.
*Guidance on interpreting card positions and seeing connections between the cards through sharing of past experiences and examples

Day 2
*Meaning of the Swords and Cups of the Minor Arcana
*Calculate timing using the Waite Deck
*Rules and Regulations for card reading
*How to shuffle and use different card spreads as reader and querent
*Group studies with all students interpreting card spreads with Adrienne's guidance

Who is this workshop for?
*Curious about Tarot and card reading
*Confused about all the different approaches and information and don't know where to start
*A beginner card reader who wants to develop reading and communication skills
*A card reader wanting to explore the holistic approach with the Body-Mind-Soul Alignment method
*Interested in self-exploration and self-development through reflection
*Exploring different ways to uncover hidden solutions from your subconscious to form more constructive and insightful choices
*Looking to develop more self discipline
*Interested in adding to your toolbox and would like to gain and hone a powerful tool for the new year.
About Adrienne Tan
Adrienne has been reading Waite Deck Tarot for nearly 30 years. She developed the Body-Mind-Soul technique to assist her clients and students to make positive and productive changes in their lives through balance and holism. She believes that when the heart, mind, body, and soul are aligned, life is joyful and radiant.
I chose to attend Adrienne's Mind-Body-Soul Alignment Tarot reading classes on a whim, ater having attended a one-on-one session with her some time ago. I wasn't entirely sure what to expect from it. Needless to say, it was a wonderful and fulfilling experience.

Adrienne is clear and creative in her teaching, which is commendable given that there is a large amount of interpretation that takes place within the tarot system, and very rarely a black-and-white situation in any given scenario.

I would recommend her classes for anyone who is interested in interpretation of life situations, be it to help themselves or others. And, as Adrienne puts it succintly, "Practice Makes Perfect!"
Surabhi, Process Engineer