By now, the secret is out. Everyone loves tumeric.
tumeric, part of the ginger family, has long been used in Indian cooking. This root is also used in a traditional Indonesian remedy called jamu. For many people, tumeric is taken in its powder form in cooking or as a capsuled supplement. Let's not forget our animal companions, from dogs to horses. They can benefit from tumeric too!
A natural remedy, tumeric has been shown to have a long list of benefits. One of the most well-known is for inflammatory conditions, giving relief from arthritis, psoriasis, airway inflammation relating to asthma, and inflammatory bowel disease.
Studies now show that inflammation is involved with all sorts of unwellness so dealing with this condition is foundational to health.
#foodforthought – what in your life is getting you inflamed? Contemplate and see what is actually triggering you and feel what other choices you can make.
What is Jamu?
Jamu is traditional Indonesian herbal medicine. The material used is plant based and includes, the roots, bark, leaves, seeds, fruits and flowers. Many culinary herbs like ginger, turmeric, and lemongrass are also included in Jamu tonics. It is an age- old practice with roots in Javanese folk medicine, like so many South Asian cultures that looked to nature for cures.
Early evidence of plant medicines and the practice of Jamu can be seen on stone reliefs at the famous Buddhist monument, Borobudur where carvings depict plants being grounded for medicines.
Jamu collectively, is a pharmacy that includes some powerful plants that help one to maintain good health and offers protection from common ailments and diseases.
from Ajuntha Anwari of the Medicine Woman Asia

What else does tumeric do?
It also boosts digestion by stimulating the gall bladder and reducing bloat, helps depression (better than Prozac without the side effects!), regulates insulation secretion, helps with pancreative function by improving beta cell function, post-workout recovery…the research continues in multiple directions.
According to animal naturopath Poppy Phillips of Holistic Animal Insights, tumeric is a great anti-cancer agent, for any estrogen-based cancer. Testosterone-based cancers such as testicular cancer can be aggravated. Her field experience is consistent with research that shows turmeric boosts testosterone.
This beautiful yellow spice has 300+ components! The most active ingredient and beneficial polyphenol that has been studied is called curcumin and with just a teaspoon of tumeric, this spice can enhance bodily function. To boost its efficacy and make it even more bioavailable, just add a dash of fresh ground black pepper, and take it with cold-pressed olive, coconut oil, or another healthy oil.
How do you use tumeric?
For Emergencies and to Ease Digestion Challenge
Amber Sawyer of Satsanga has tumeric in her first-aid kit. This "magic herb of Ayurveda" as she calls it is a natural antibiotic and it is also "effective at cleansing the blood, purifying the subtle channels of the body, and can be used externally for healing bruises, cuts, sprains, and strains."
Here is how Amber uses tumeric. She makes a paste by boiling equal parts of water and organic tumeric for eight minutes. She then stores the paste in a glass jar in the refrigerator.
For wounds, bruises, and sprains
* Apply organic tumeric powder or paste to a cut to stop the bleeding and to act as an antibacterial.
* Before wrapping up your bruises and sprains with loose gauze, apply a tumeric paste to the area.
* Gargle with warm salt water with a pinch of organic tumeric to relieve a sore throat and/or swallow a 1/2 tsp of tumeric paste several times a day.
For Skin
* For skin conditions such as chicken pox, eczema, poison oak, and scabies, apply a thin coating of tumeric paste and cover loosely with gauze.
For Digestion
* To help improve digestion, simply add tumeric to your dishes or add some of the tumeric paste. It is best to first cook it lightly in ghee or coconut oil or your own preferred oil.
For Animals
Doug English's Golden Paste
1/2 cup organic numeric powder
1 cup of water (another cup, if needed)
1.5 teaspoons ground black pepper
1/3 cup cold-pressed olive or coconut oil
Stir tumeric and water in a pot over low heat until the consistency is a thick paste. Additional water may be necessary, depending on the type of numeric.
Take the tumeric paste off the heat and stir in the oil and allow to cool.
Store in a glass container in the refrigerate up to four weeks.
For more information about using tumeric for dogs and horses by Dr Doug English, check out his website Tumeric Life.
Tumeric for Horses
According to the oldest existing veterinary text from India – a treatise entitled Asvayurvedasiddhanta (complete Ayurvedic system for horses; probably earlier than the 10th century AD) – the whole turmeric root can be relied upon to treat the following in horses: mouth blisters, sprains, internal parasites, skin disease, constipation, internal injury, eye diseases, wounds, external parasites, sprains, mastitis, cough, cold, bone fracture, heatstroke, wounds, haematuria (the presence of blood in the urine), colic and other gastrointestinal dysfunctions.
From the article Turmeric for Horses – Everything you need to know by Dr Doug English

Other animals can also benefit from the addition to tumeric to their diet.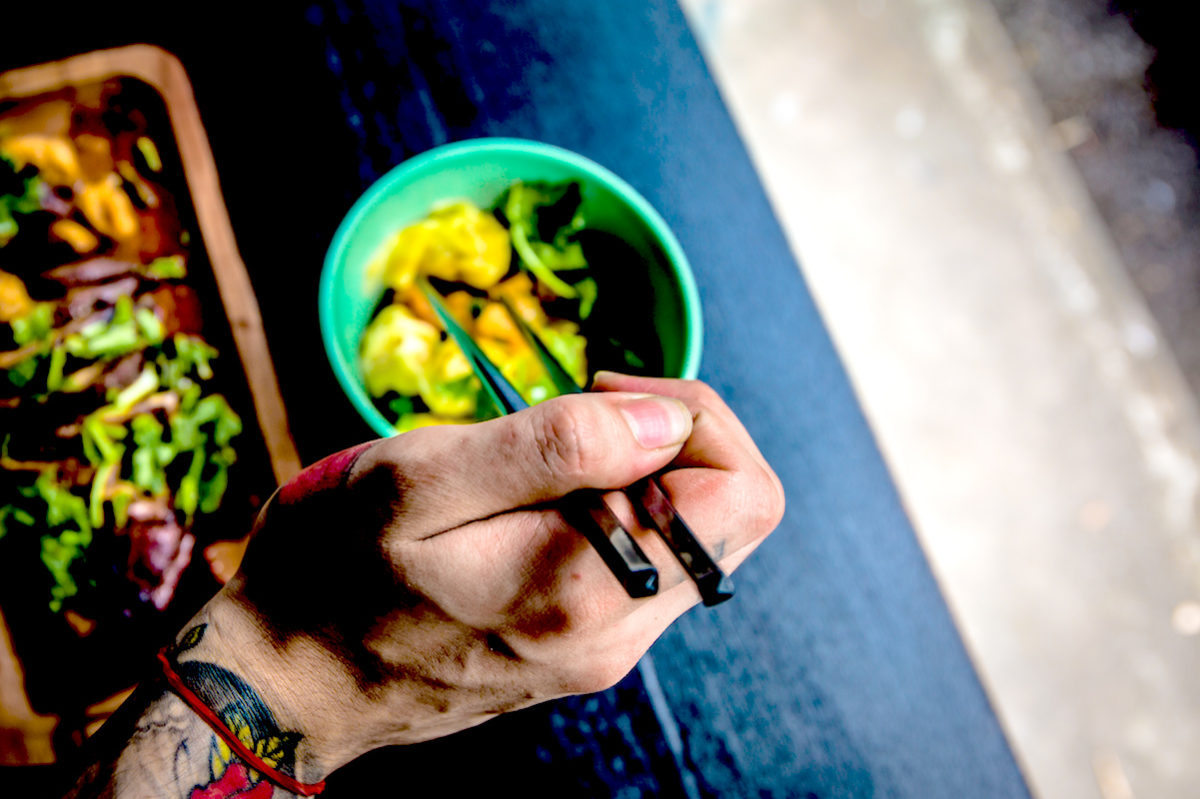 Tumeric in Your Cooking
A Recipe with Tumeric from Made in India
Made in India by Meera Soda is an easy-to-make recipes from her own family, food she grew up eating. Indian cooking, with all the different spices, can be daunting; these recipes are accessible partly because only a few spices are used for each.
Roasted Cauliflower with Cumin
1 large head of cauliflower, about 1 ½ pounds
2 teaspoons cumin seeds
1 ¼ teaspoons salt
1 teaspoon chili powder
½ teaspoon turmeric
5 tablespoons canola (chef/author uses canola and we suggest a healthier other vegetable oil)
1 lemon
Preheat the oven to 350. Line two sheet pans with parchment paper.
Wash the cauliflower with filtered water, removing the leaves. Break the cauliflower into the smaller florets and steam in boiling water. Drain well and let dry.
Grind the cumin seeds with the salt using a mortar and pestle or a spice/coffee grinder, before adding the chili powder and tumeric, and then the oil.
Drizzle oil over the cauliflower making sure it is well-coated and place on the sheet pan. Roast for half hour and shake the pan regularly to get the cauliflower evenly cooked.
This dish can also be done with broccoli.
The Longevity Drink
Dr Theresa Ramsey of the Centre for Natural Healing shares an old recipe using turmeric and ginger. This is a recipe she got from one of her clients who drinks it every day. An ancient Chinese secret. Dr Ramsey found out about this recipe because she was impressed with her client's test scores such as cellular hydration and cellular age (from 2-3 years faster than her chronological age to 7 years slower).
Here's why she loves these ingredients – increased tumeric (aka curcumin) intake decreases arthritis, cancer, and alzheimer's; ginger is a "GI herb" and great as a cold and flu remedy; lemon helps with "bioflavonoids that stabilize mast cells preventing histamine release into the body"; and pepper works with tumeric (curcumin specifically) and boosts its actions by 2000%!
Longevity Drink Ingredients
1 Lemon (including rind – use organic lemon)
1/2 to 1 inch of Fresh Tumeric root
1 inch of Ginger
1 dash of pepper
Juice all ingredients, add to warm filtered water, and drink every day!
This tumeric recipe is bitter and sharp for some people. Try diluting it with more filtered water or add some raw honey. I do both.
---
Tumeric stains yellow! Ajuntha the Medicine Woman Asia uses a separate container for juicing her tumeric. For all those stains you may find on the counter, try a baking soda paste. This non-toxic recipe is a great general householder cleaner for all sorts of stains. Mix 3 parts baking soda and 1 part water (to the consistency of toothpaste) and apply to the stain. Wipe with a wet cloth after an hour. Older stains may require a longer working time.